Nyasha Williams will speak about and sign her new tarot deck, Black Tarot: An Ancestral Awakening Deck and Guidebook, and its companion journal, Ancestral Illumination: A Guided Journal for Black Tarot, on Thursday, December 8th at 6:30pm, at Boulder Bookstore. Tickets for this event are $5 (plus a small processing fee) and are available on Eventbrite HERE or by clicking the button below.
About Black Tarot:
Let your guiding spirits and ancestral figures come through with this stunningly illustrated tarot deck and guidebook. Black Tarot is the tarot deck you've been missing, complete with 78 tarot cards featuring all Black representations of classic tarot figures and iconography (The Sun, The Moon, Judgement, etc.). An illustrated guidebook is included, with information on each card including traits, descriptions, action steps, flower, element, chakra, affirmations, and more. Throughout, find lessons on how the moon's cycle and the element of water influence your life, your readings, and your connections with the divine.
About Ancestral Illumination:
Dive into this beautifully designed journal, filled with prompts, questions, tarot advice, plenty of writing space, and more to help you record and reflect on your tarot journey. This journal is a companion to Black Tarot, a tarot deck and guidebook that draws influence from the moon and the water and features exclusively Black figures. Customize your journal and chart your own tarot journey with the four enclosed sticker sheets.
---
IMPORTANT TICKETING AND EVENT INFORMATION
*Tickets are $5 (plus a small processing fee).
*A coupon good for $5 off a copy of Black Tarot or Ancestral Illumination, or a purchase on the day of the event is included with your ticket. You will receive this coupon at the event.
*COVID-19 measures: Admission to this event will be limited, and masks are encouraged for all attendees.
*After purchasing your tickets, send an email to bbsvirtualevents@gmail.com if you're a Readers Guild member and you'd like to reserve a seat at this event. Seats must be reserved before 5pm on event day.
Event date:
Thursday, December 8, 2022 - 6:30pm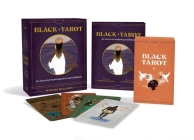 $28.00

ISBN: 9780762479696
Availability: On Our Shelves Now. Click on the title to see details.
Published: RP Studio - December 6th, 2022
---

$17.95

ISBN: 9780762479702
Availability: On Our Shelves Now. Click on the title to see details.
Published: RP Studio - December 6th, 2022
---