THIS EVENT IS SOLD OUT
JP Sears will speak about and sign his new book, How to Be Ultra Spiritual, on Tuesday, March 7th at 7:30pm.
NEW LOCATION! *at First Congregational Church* (1128 Pine St.)
About the Book:
In case you haven't noticed, the New Age has become the Old Age. But don't recycle your crystals just yet — His Enlightenedness JP Sears is ushering in the Newer Age, blinding us with the dawn-like brilliance that is Ultra Spirituality. With How to Be Ultra Spiritual, JP Sears brings the heart and soul of ancient spirituality back to life, replacing the diluted uselessness of modern spirituality with the waaay more spiritual wisdom of Ultra Spirituality. See if you can keep up.
Vouchers to attend are $5 and are good for $5 off the author's featured book or a purchase the day of the event. Vouchers can be purchased now at the store, over the phone, or at the door.
Event date:
Tuesday, March 7, 2017 - 7:30pm

$16.95
ISBN: 9781622038213
Availability: Usually Ships in 1-5 Days
Published: Sounds True - March 7th, 2017
---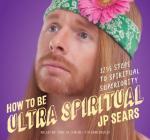 $39.95
ISBN: 9781622038718
Availability: Usually Ships in 1-5 Days
Published: Sounds True - March 7th, 2017
---