Jane Sobel Klonsky will speak about and sign her new book, Unconditional: Older Dogs, Deeper Love, on Tuesday, December 6th at 7:30pm.
About the Book:
Experience the deeper, sweeter love of senior dogs with Unconditional. This captivating collection of photographs and anecdotes is a one-of-a-kind celebration of humans' special bond with, and love for, their senior dogs. Since 2012, photographer Jane Sobel Klonsky has traveled the United States with one mission: to capture images and stories that focus on the powerful relationship between dogs in the twilight of their lives and the people they share their life with. A book for any dog lover who appreciates the connection, unconditional love, and bond that can only be provided by a canine companion.
Vouchers to attend are $5 and are good for $5 off the author's featured book or a purchase the day of the event. Vouchers can be purchased now at the store, over the phone, or at the door. Readers Guild Members can reserve seats for any in-store event.
Event date:
Tuesday, December 6, 2016 - 7:30pm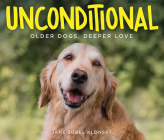 $19.95
ISBN: 9781426217111
Availability: On Our Shelves Now. Click on the title to see details.
Published: National Geographic - October 25th, 2016
---