Battle for Eklatros (Paperback)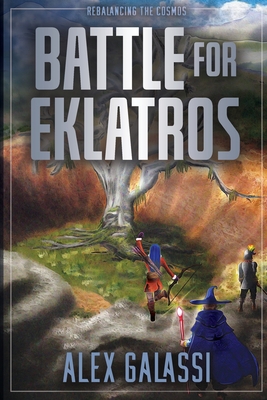 List Price: $26.00
Our Price: $20.00
(Save: $6.00 23%)
Description
---
"Battle for Eklatros by Alex Galassi is an extraordinary science-fiction fantasy novel that strikes a perfect balance between conflict, mystery, and character development. I am so invested in the world-building and the characters that I can't wait for the next installment." - Readers' Favorite
Discover nifa's thrilling tale in the first part of the Rebalancing the Cosmos series.
Eklatros is a peaceful planet, untouched by war for thousands of years. Throughout the ages since the back-to-back conflicts known as the War for Equality and the Dark War, humans have become soft. Their history has become myth and the magic that was once abundant is fading away.
Now, Eklatros faces its gravest threat yet from an alien horde known as the Gnusar. Cities are being ravaged while the Gnusar's all-powerful leader slowly corrupts the animals and gods of Eklatros. The planet's only hope for survival rests in a mysterious elvish woman, simply known as nifa. Without any memory of who she is or where she comes from, nifa must journey across Eklatros to reclaim her memories while reviving and awakening the planet. Aided by her newfound friends and companions-an elderly sorcerer, a drunken knight, a mysterious man from the past, a foul-mouthed privateer, and others-can nifa's party come together in time to save Eklatros?
"The last part of the book was such a thrill ride that I didn't want to put it down." - Amazon Customer