Bone Broth Diet Plan: A 3-Week Step-by-Step Guide for Women to Promote Weight Loss and Healing, With Curated Recipes (Paperback)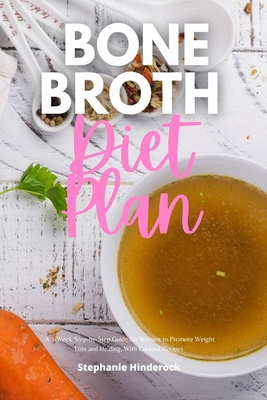 $12.99
Email or call for price.
Description
---
Do you ever wonder if losing weight without the need to do very strenuous exercises is possible? What we're trying to say is we always see perfectly slim bodies at gyms sweating endlessly to reduce their fats.
If you are one of those who do not want to spend time in the gym doing workouts or do not have the luxury of time to do these exercises that will somehow lead you to painful muscles, then this three-week bone broth diet guide is perfect for you.
In this guide, we will show you how easy it is to achieve a slimmer figure. Here's a short overview of the things that you will love to know as you go to the bottom line of our informative step-by-step diet guide in just three weeks.
Bones are not useless as we all think
Losing weight without losing your mind with stressing workouts
Do's and don'ts for the 3-week diet plan
The power of the 3-week diet plan
Tasty recipes that will help you reduce weight

Take note that this guide is made so that people who always think of improving themselves physically will have the opportunity to do so in a very convenient way without sacrificing their working hours or other times allotted for more important activities.

This diet guide is also intended for people who are health conscious. In other words, your reading journey will be hitting two birds with one stone as you will get both healthy and physically pleasing results.
Imagine what changes you can see in your life if you take action today. Scroll up and click buy now to get started.