Measure for Measure: a play by William Shakespeare about themes including justice, morality and mercy in Vienna, and the dichotomy between (Paperback)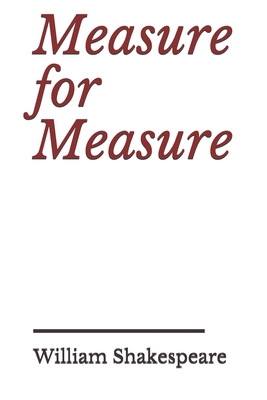 Description
---
Measure for Measure is a play by William Shakespeare, believed to have been written in 1603 or 1604. Originally published in the First Folio of 1623, where it was listed as a comedy, the play's first recorded performance occurred in 1604. The play's main themes include justice, "morality and mercy in Vienna", and the dichotomy between corruption and purity: "some rise by sin, and some by virtue fall". Mercy and virtue prevail, as the play does not end tragically, with virtues such as compassion and forgiveness being exercised at the end of the production.

While the play focuses on justice overall, the final scene illustrates that Shakespeare intended for moral justice to temper strict civil justice a number of the characters receive understanding and leniency, instead of the harsh punishment to which they, according to the law, could have been sentenced.

Measure for Measure is often called one of Shakespeare's problem plays. It continues to be classified as a comedy, albeit a dark one, though its tone may defy those expectations.
SYNOPSIS
Vincentio, the Duke of Vienna, makes it known that he intends to leave the city on a diplomatic mission. He leaves the government in the hands of a strict judge, Angelo.
In the next scene, we find a group of soldiers on a Vienna street, expressing their hopes, in irreverent banter, that a war with Hungary is afoot, and that they will be able to take part. Mistress Overdone, the operator of a brothel frequented by these same soldiers, appears and tells them "there's one yonder arrested and carried to prison was worth five thousand of you all". She tells them that it is "Signor Claudio", and that "within these three days his head to be chopped off" as punishment for "getting Madam Julietta with child". Lucio, one of the soldiers who is later revealed to be Claudio's friend, is astonished at this news and rushes off. He then informs Mistress Overdone of Angelo's new proclamation, that "All houses of prostitution] in the suburbs of Vienna must be plucked down".
CHARACTERS
Isabella, a novice and sister to Claudio,
Mariana, betrothed to Angelo
Juliet, beloved of Claudio, pregnant with his child
Francisca, a nun.
Mistress Overdone, the manager of a thriving Viennese brothel
Vincentio, The Duke, who also appears disguised as Friar Lodowick
Angelo, the Deputy, who rules in the Duke's absence
Escalus, an ancient lord
Claudio, a young gentleman, brother to Isabella
Pompey Bum, a pimp who acquires customers for Mistress Overdone
Lucio, a "fantastic", a foppish young nobleman
Two gentlemen, friends to Lucio
The Provost, who runs the prison
Thomas and Peter, two friars
Elbow, a simple constable
Froth, a foolish gentleman of fourscore pound a year
Abhorson, an executioner
Barnardine, a dissolute prisoner
a Justice, friend of Escalus
Varrius (silent role), a friend of the Duke