Peters' Principles of Success: Common Sense Pathways to Prosperity and Fulfillment (Hardcover)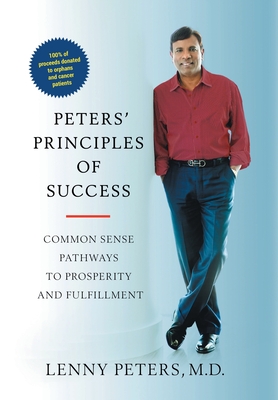 $28.00

NOT on our shelves - Usually Ships in 1-5 Days
Description
---
"Dr. Peters distills decades of achievement into rules that are completely accessible at any level. This book is indispensable." --Dr. Gregory Wiener M.D., CEO, GW Research
"Lenny makes the hard-won lessons of an accomplished life easy for the rest of us to follow. Peters' Principles is a touchstone." --Harold Nunn, CEO, Peak Resources Inc.
"Readers will glean commonsense tips alongside the deeper messages embedded in Peters' writing, and throughout the guide, he spotlights the importance of reframing failures into lessons for the future, using humor to point out that mistakes are normal...Great for fans of Atomic Habits by James Clear." --Publisher's Weekly Book Life
Guided by his faith, the author of Barefoot to Benefactor shares the rules of success that he learned in building an empire: in healthcare, banking, real estate, medical research, and philanthropy.
A poor boy from Kerala, India, becomes a world-class doctor, founder of a medical center, and a confidante of world leaders. Many of us think that even with our own ambition and grit, we could never achieve what Dr. Lenny Peters has in one lifetime. Yet Dr. Peters is adamant: anyone can achieve their professional and personal dreams. Peters' Principles of Success is the culmination of several decades of his efforts to achieve success, not just in a singular avenue, but as a matter of philosophy in all facets of life.
In Peters' Principles, Dr. Peters shares his "blueprint," and the ten principles he outlines, if consistently applied with conviction, can take you wherever you want to go. You will learn:
Why you must rely on your inner compass to seek balance.
How to filter out your deep-seated rationalization for why your idea "cannot be done."
People love to talk-learn to listen hard to people from all walks of life.
It takes guts to think big-stretch to envision how you can benefit yourself and the world.
Develop the ability to filter out life's distractions: Do it now
How to be frugal without sacrificing quality.
Putting together a team that shares your vision and drive.
Always guided by his belief in God, Dr. Peters has written an invaluable handbook for entrepreneurs and professionals on the rise. His infectious enthusiasm for life and deep gratitude for the faith that sustains him will ignite your own determination to succeed.