Exploring Southeast Asia with Chuah Thean Teng: Father of Batik Painting (Paperback)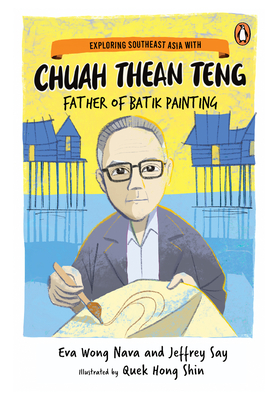 $19.99

If not in stock, we can Special Order from the publisher
Description
---
DISCOVER THE WONDERS OF SOUTHEAST ASIA THROUGH ART
Exploring Southeast Asia with Chuah Thean Teng takes the reader through the Malaysian batik painter's life in Penang, Malaysia, where Chuah opened a batik factory following WWII. Focusing on his life after the closure of his batik factory, we see how Chuah persevered to make art with batik, becoming the father of batik painting. Through Chuah's paintings, readers will learn about the importance of batik in Malaysia's art world as well as the techniques of batik and batik painting. Chuah's artworks were featured in UNESCO's greeting cards in 1989. Readers will also get a glimpse of a Malaysian kampung and a Malaysian way of life.
About the Author
---
Quek Hong Shin is a Singaporean freelance author and illustrator whose works include picture books like The Amazing Sarong, The Brilliant Oil Lamp and Universe of Feelings. The Incredible Basket, was the winner of Best Children's Book at the 2019 Singapore Book Awards. He is also the illustrator for other children's titles like The One and Only Inuka and the Ahoy, Navy! series that was published in celebration of the Republic of Singapore Navy's 50th Anniversary in 2017.
Eva Wong Nava is an award-winning children's book author. She writes picture books to entertain, engage, and enthral young readers. She is also an art historian. When not writing for children, she meanders art museums and galleries waiting for the next piece of art work to speak to her and inspire another story. She weaves stories from art at CarpeArte Journal. When not writing, Eva teaches the art of picture book creation through her workshops under the brand, Picture Book Matters.
Jeffrey Say is an art historian specialising in Singapore and Southeast Asian art history. Jeffrey has been instrumental in the development of art history studies at LASALLE College of the Arts, supporting artists to develop a contextual and historical understanding of the evolution of visual arts. In 2009, he designed the world's first Master's programme focussing on Asian modern and contemporary art histories. Jeffrey is a public advocate of the importance of art history to Singapore.