Diario Para Estoicos - Agenda (Daily Stoic Journal Spanish Edition) (Paperback)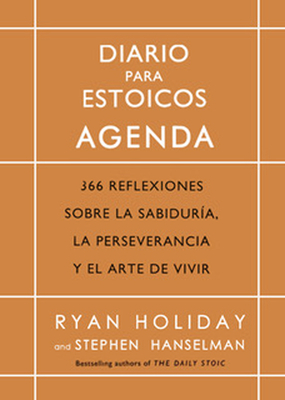 $9.95

NOT on our shelves - Usually Ships in 1-5 Days
Description
---
Ryan Holiday y Hanselman vuelven con The Daily Stoic Journal, una gu a interactiva para integrar esta antigua filosof a en nuestras vidas del siglo XXI. Los lectores encontrar n explicaciones y citas semanales para inspirar una reflexi n m's profunda sobre las pr cticas estoicas, as como indicaciones diarias y una til introducci n que explica las diversas herramientas estoicas de autogesti n. La tapa dura, bellamente dise ada, ofrece espacio para notas matutinas y nocturnas, junto con consejos para fomentar la escritura y las reflexiones continuas, d a a d a a lo largo del a o.
Como volumen complementario para aquellos que ya aman El Estoico Diario, o como un elegante diario independiente, es perfecto para cualquiera que busque la paz interior y la claridad en nuestro vol til mundo.//
Now Holiday and Hanselman are back with The Daily Stoic Journal, an interactive guide to integrating this ancient philosophy into our 21st century lives. Readers will find weekly explanations and quotations to inspire deeper reflection on Stoic practices, as well as daily prompts and a helpful introduction explaining the various Stoic tools of self-management. The beautifully designed hardback features space for morning and evening notes, along with advice to encourage ongoing writing and insights, day by day through the year.
As a companion volume for those who already love The Daily Stoic, or as a stylish stand-alone journal, this is perfect for anyone seeking inner peace and clarity in our volatile world.