Bonjour New York: The Bonjour City Map-Guides (Pamphlet)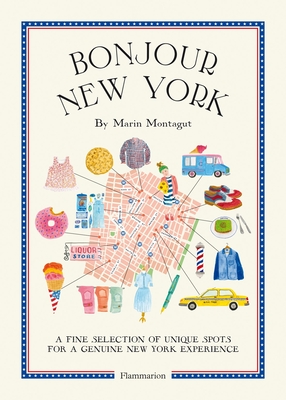 $9.95

On Our Shelves Now. Click on the title to see details.
Description
---
As portable as a map but as informative as a guide, these hybrid Bonjour city map-guides by globe-trotting filmmaker Marin Montagut offer his curated recommendations for shopping, dining, and attractions. The Bonjour pocket-sized map-guides—made of water-resistant, tear-proof paper—feature rare and soulful places that exude an enviable je ne sais quoi. From bakeries to taco trucks, bicycle rentals to antiques shops, or boutiques to toy stores, each recommendation includes a succinct anecdote, tip, or description—illustrated by Marin Montagut's watercolor travel sketches—to tempt bon vivants everywhere.  
In Bonjour New York, roam the Big Apple in shoes tailor-made by one of the city's oldest cobblers, handpick the fabric and cut for customized jeans, find respite in the urban oasis of a secret East Village garden, or sip cocktails in the city's best speakeasy. Featured neighborhoods include SoHo, NoLIta, and TriBeCa; the West Village and Chelsea; the Lower East Side and the East Village; Boerum Hill and Cobble Hill; Greenpoint and Williamsburg.
About the Author
---
Marin Montagut studied art in Paris and at Saint Martin's in London. A set designer, decorator, and mixed-media artist, he writes and directs documentary films.
Praise For…
---
"As portable as a map but as informative as a guide, the hybrid Bonjour City Map Guidesprovide a refreshing look at these three popular cities. . . The pocket sized guides are water resistant and tear proof (perfect for a klutz like me...) and feature rare places that you'll want to visit in a heartbeat. . .From the Monmouth Coffee Company in London, Merci in Paris and the Milk and Cookies Bakery in New York, the Map Guides will be my essential travel item on my next trip!"
-POLITICAL STYLE BLOG

"Put away your smartphone: Explore the best of [New York, London, and Paris] with a charming series of maps. . . The compact guides cover shops, hotels, restaurants, and notable sights,offering something for all travelers, whether they've visited many times before or are experiencing the city for the first time" - Architectural Digest

"Among his in-the-know recommendations [from the Bonjour City Map-Guides series], highlights include tucked-away bakeries, hidden speakeasies, taco-trucks, toy shops, an anatomical museum, a Hoxton jazz bar and a Belle Epoque absinthe café." - London Evening Standard