Air Fryer Cookbook For Beginners 2020: 800 Most Wanted, Quick & Amazingly Easy Recipes to Fry, Bake, Grill, and Roast with Your Air Fryer (Paperback)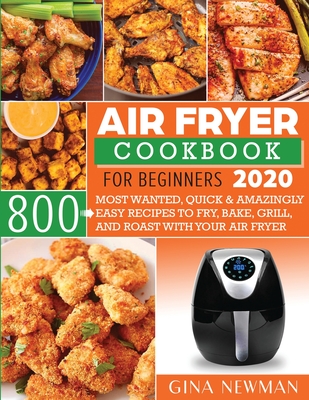 Description
---
800 Easy Air Fryer Recipes for Quick & Hassle-Free Frying
I bet you crave for simple, no-fuss air fryer recipes That's why I decided to create the best air fryer cookbook with 800 delicious & easy meals, that you'll ever need to cook in your air fryer.
This Air Fryer Cookbook for Beginners includes:
Budget friendly recipes: cut expensive and easy to find ingredients.
Nutritional information: keep track of your daily calories.
Servings: cook the right amount of food for your diet.
Cooking times: save time in the kitchen.
Highly rated recipes: enjoy only the highest quality hand selected recipes.
This simple, yet powerful recipe book has plenty of content in the following categories:
Quick Snacks and Side Dishes
The Most-Wanted Beef, Lamb and Pork Recipes
Great variety of Breakfast & Lunch Recipes
Vegetables and Vegetarian Air Fryer Recipes
Healthy Air Fryer Recipes for Sweets & Desserts
This complete Air Fryer recipes cookbook will take care of your scarce cooking time and will show you the easiest & astiest way towards a whole new life with your ninja air fryer.
Get it now and do yourself a big favor Get the best air fryer recipes and you will love it