Cinephile: A Card Game (Game)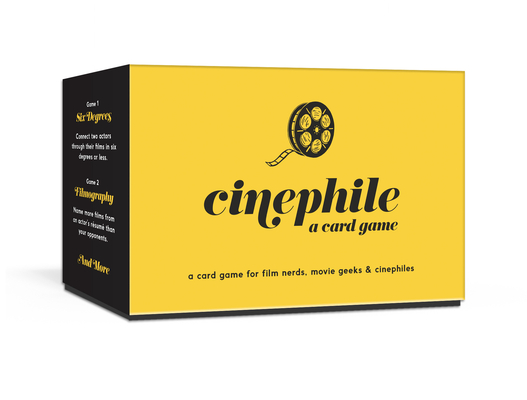 $20.00

On Our Shelves Now. Click on the title to see details.
Description
---
With 150 cards and multiple ways to play, this "stylish and addictive card game" [GQ] is the perfect choice for everyone from casual movie-goers to bona fide film nerds.

• This card-based party game is a well-crafted mix of sleek design, pop culture, and film, sure to be a hit at your next movie night, game night, or even as an icebreaker for your new book club, in person or over video chat.
• This versatile game offers multiple different ways to play and win, from naming more films an actor has appeared in than your fellow movie nerds to naming more actors in a film and much more!
• With multiple levels of difficulty, Cinephile will have you and your friends racking your brains for Sean Connery's lesser-known films, Cate Blanchett's filmography, and Steve Buscemi's most memorable cameos.

Praise for Cinephile

"Gorgeously designed and illustrated."—Joshua Rothkopf, Time Out New York

"Beautiful graphic design and hand-drawn portraits."—Esquire

"A new essential, beautifully-designed game for film lovers . . . the Criterion Collection of card games."—Jordan Raup, The Film Stage
About the Author
---
CORY EVERETT is an art director, writer, and creator of Cinephile: A Card Game. He has written about film at IndieWire, The Film Stage, and Cigarettes & Red Vines: The Definitive Paul Thomas Anderson Resource and appeared on the short-lived IFC show Ultimate Film Fanatic. (He lost.) He lives in Los Angeles with his wife and son.

STEVE ISAACS is the Illustrator of Cinephile: A Card Game. He works as a creative director building advertising campaigns for film and TV, and has been the singer of two major label rock bands, the skipper of the Jungle Cruise at Disneyland, and an MTV VJ. He lives in Los Angeles with his wife and two deeply ambivalent cats.
Praise For…
---
"The game film geeks have been waiting their entire lives for."—Drew Taylor, Moviefone
 
"Film buffs rejoice! There's an official place to channel all your cinema nerdery."—Frankie Magazine
 
"If you've got decades worth of movie trivia up in your head but nowhere to show it off, Cinephile: A Card Game just may be your perfect outlet."—Jay Serafino, Mental Floss

"A great way to put your Hollywood knowledge to the test."—Sarah Shoen, Vanity Fair
 
"An enjoyable way to match your movie knowledge with like-minded friends."—Leonard Maltin, Maltin On Movies