All the White Spaces: A Novel (Hardcover)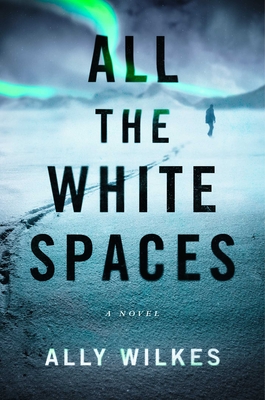 Description
---
A Bram Stoker Award nominee

"Some of the best survival horror we've read in years, with a uniquely menacing adversary at its heart." —Vulture, The Best Horror Novels of 2022
"Epic." —Esquire, The 22 Best Horror Books of 2022

Something deadly and mysterious stalks the members of an isolated polar expedition in this haunting and spellbinding historical horror novel, perfect for fans of Dan Simmons's The Terror and Alma Katsu's The Hunger.

In the wake of the First World War, Jonathan Morgan stows away on an Antarctic expedition, determined to find his rightful place in the world of men. Aboard the expeditionary ship of his hero, the world-famous explorer James "Australis" Randall, Jonathan may live as his true self—and true gender—and have the adventures he has always been denied. But not all is smooth sailing: the war casts its long shadow over them all, and grief, guilt, and mistrust skulk among the explorers.

When disaster strikes in Antarctica's frozen Weddell Sea, the men must take to the land and overwinter somewhere which immediately seems both eerie and wrong; a place not marked on any of their part-drawn maps of the vast white continent. Now completely isolated, Randall's expedition has no ability to contact the outside world. And no one is coming to rescue them.

In the freezing darkness of the Polar night, where the aurora creeps across the sky, something terrible has been waiting to lure them out into its deadly landscape…

As the harsh Antarctic winter descends, this supernatural force will prey on their deepest desires and deepest fears to pick them off one by one. It is up to Jonathan to overcome his own ghosts before he and the expedition are utterly destroyed.
About the Author
---
Ally Wilkes, the Bram Stoker Award–nominated author of All the White Spaces, grew up in a succession of isolated—possibly haunted—country houses and boarding schools. After studying law at Oxford, she went on to spend eleven years as a criminal barrister. Ally now lives in Greenwich, London, with an anatomical human skeleton and far too many books about Polar exploration. You can follow Ally on Twitter @UnheimlichManvr.
Praise For…
---
"Wilkes' grueling epic is uniquely committed to unpacking the sub-genre's chauvinistic myths . . . The novel contains all the gritty, muscular details that makes stories like this so grimly enjoyable, but at the same time, it deconstructs those very same tropes. The inclusion of various queer identities is a masterstroke. It distinguishes All the White Spaces from other Antarctic fiction, offering a bleakly heartening suggestion that, in times of hardship, prejudice can give way to compassion and collaboration."
— Esquire, "The 22 Best Horror Books of 2022"

"ALL THE WHITE SPACES is a heady and haunting mix of historical fiction, polar survival horror, and a meditation on gender, identity, and the enduring mysteries of the self. You won't soon forget Jonathan Morgan and his trial by ice."
— Paul Tremblay, author of A HEAD FULL OF GHOSTS and SURVIVOR SONG

"Deeply haunting and full of dread, ALL THE WHITE SPACES beautifully balances grief and loss with concepts of family honor and self-determination, in the midst of frozen survival horror with echoes of Dan Simmons and John Carpenter. Highly recommended."
— Christopher Golden, New York Times bestselling author of ROAD OF BONES

"Frozen into the desolation and isolation of Antarctica, this stunning debut delivers a thrilling tale of survival, terror and strength that will chill you to the core."
— Tim Lebbon, New York Times bestselling author of EDEN and THE SILENCE

"ALL THE WHITE SPACES is a sly and unsettling gem of a book that makes for an immersive read. The storytelling is as taut as the setting is stark, and rife with creeping dread . . . I was chilled to the bone while reading it, and could not put it down. I loved every frostbitten word!"
— Camilla Bruce, author of YOU LET ME IN

"A gripping narrative that is at once explorer's yarn, trans man's coming-of-age story, and a tale of a survivor grappling with horrors that defy definition . . . from gritty seafaring challenges to a desperate struggle with demons that blur the line between the supernatural and the subconscious. Fans of historical horror will be enthralled."
— Publishers Weekly

"ALL THE WHITE SPACES is a masterpiece. A journey of discovery that left me breathless and emotional for all the right reasons. With this powerful debut, Ally Wilkes has not arrived quietly on the horror scene; she has scaled a towering iceberg and roared."
— Rio Youers, critically-acclaimed author of LOLA ON FIRE

"I have three words for you: polar, survival, and horror. I've had this debut on my list since late 2021. It should be on your radar, too."
— Gabino Iglesias, LitReactor

"A vivid, immersive tale about a fictional British expedition to the Antarctic in 1919-20 – classic territory, but with a transgender perspective . . . A gripping read. On top of that . . . is the element of supernatural horror. Here, too, the author excels, creating a new sort of ghost story in the empty, icy wastes."
— The Guardian, "The Best Recent Science Fiction, Fantasy, and Horror."

"The desolation of the Arctic and human desperation . . . might intrigue fans of The Terror or The Thing."
— Den of Geek, "Best New Horror Books"