Anonymous Sex (Paperback)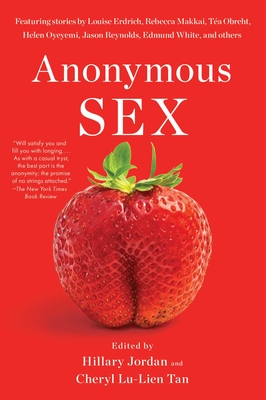 Description
---
27 Authors. 27 Stories. No Names Attached.

A bold collection of stories about sex that leaves you guessing who wrote what.

Bestselling novelists Hillary Jordan and Cheryl Lu-Lien Tan present an elegant, international anthology of erotica that explores the diverse spectrum of desire, written by winners of the Pulitzer Prize, National Book Award, PEN Awards, the Women's Prize for Fiction, Edgar Award, and more. There are stories of sexual obsession and sexual love, of domination and submission. There's revenge sex, unrequited sex, funny sex, tortured sex, fairy tale sex, and even sex in the afterlife.

While the authors are listed in alphabetical order at the beginning of the book, none of the stories are attributed, providing readers with a glimpse into an uninhibited landscape of sexuality as explored by twenty-seven of today's finest authors.

Featuring Robert Olen Butler, Catherine Chung, Trent Dalton, Heidi W. Durrow, Tony Eprile, Louise Erdrich, Jamie Ford, Julia Glass, Peter Godwin, Hillary Jordan, Rebecca Makkai, Valerie Martin, Dina Nayeri, Chigozie Obioma, Téa Obreht, Helen Oyeyemi, Mary-Louise Parker, Victoria Redel, Jason Reynolds, S.J. Rozan, Meredith Talusan, Cheryl Lu-Lien Tan, Souvankham Thammavongsa, Jeet Thayil, Paul Theroux, Luis Alberto Urrea, and Edmund White.
About the Author
---
Hillary Jordan is the author of the novels Mudbound and When She Woke. Mudbound was an international bestseller that won multiple awards and was adapted into a critically acclaimed Netflix film that earned four Academy Award nominations. Hillary is also a screenwriter, essayist, and poet whose work has been published in The New York Times, McSweeney's, and Outside Magazine, among others. She lives in Brooklyn, New York.

Cheryl Lu-Lien Tan is author of the international bestsellers Sarong Party Girls and A Tiger in the Kitchen: A Memoir of Food and Family. She is also the editor of the fiction anthology Singapore Noir. Cheryl was a staff writer at The Wall Street Journal, InStyle, and The Baltimore Sun, and her stories and reviews have also appeared in The New York Times, Times Literary Supplement, The Paris Review, The Washington Post, and Bon Appetit, among others. Born and raised in Singapore, she lives in New York City.
Praise For…
---
"A wild and varied romp into all kinds of sexual tales and fantasies. . . . this is a book you'll wanna keep on your bedside table." —Refinery 29

"The stories will satisfy you and fill you with longing. . . . as with a casual tryst, the best part of this book is the anonymity; the promise of no strings attached." —New York Times Book Review

"A sizzling assemblage of top-notch literary fiction." —Los Angeles Times

"Triumphantly carnal." —Times Literary Supplement (UK)

"An intoxicating combination of tension and release, not to mention artistry." —San Francisco Chronicle

"There's funny sex, revenge sex and senior sex, and tales of obsession, dominance and love. It's hard to say what's more entertaining: the guessing game or the stories themselves." —TIME

"An early contender for the steamiest book of the year." —PopSugar

"The writers of these steamy stories kiss but don't tell." —Washington Post

"Jordan and Tan assemble a literary erotica anthology with a coy twist: individual stories aren't attributed, allowing readers to guess which of the decorated contributors wrote what. The hush-hush conceit is fun. . . . standouts include 'History Lesson,' a BDSM story that builds real anticipation in few pages; the steamy fairy tale 'Rapunzel, Rapunzel'; and the unabashedly dreamy 'Find Me.' Noteworthy is the international scope of the stories' settings." —Publishers Weekly

"A diverse array of authors explore human sexuality . . . creates a fun mystery for the reader . . . beautifully crafted." —Kirkus Reviews

"An anthology in the form of a parlor game, Anonymous Sex invites readers into the imaginations of some our best novelists, letting us marvel at their talents and desires while wondering who wrote what and if it even matters. A book of pleasures and secrets—and great fun to read." —David Ebershoff, author of The Danish Girl and The 19th Wife

"Literally a pleasure to read. Erotic and well written, these stories sizzle and satisfy, snatched me up from the very first page. You won't be able to put this book down!" —Nicole Dennis-Benn, bestselling author of Here Comes the Sun and Patsy