Mindfulness Essentials Cards: 52 Inspiring Practices and Meditations (Cards)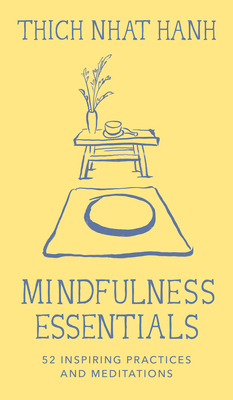 Description
---
"The monk who taught the world mindfulness." —TIME

50+ prompts, exercises, and meditations for your mindfulness practice from the bestselling How To series, by the world-renowned Zen Buddhist teacher who introduced mindfulness to the Western world.
Enjoy the wisdom and inspiration of the bestselling How To series (
How to Love, How to Relax, How to Sit, How to Walk
, and more) from Thich Nhat Hanh, with over 1 million combined sales in the US alone, in this engaging and easy-to-use card deck. These cards can be used daily for contemplation, or displayed around your home or office for inspiration.
More than 50 cards, color coded by topic and featuring the sumi-ink artwork of Jason DeAntonis
Each card contains a reflection or practice, along with an illustration
Brings a fresh spirit to your mindfulness practice
About the Author
---
Thich Nhat Hanh was a world-renowned spiritual teacher and peace activist. Born in Vietnam in 1926, he became a Zen Buddhist monk at the age of sixteen. Over seven decades of teaching, he published more than 100 books, which have sold more than four million copies in the United States alone. Exiled from Vietnam in 1966 for promoting peace, his teachings on Buddhism as a path to social and political transformation are responsible for bringing the mindfulness movement to Western culture. He established the international Plum Village Community of Engaged Buddhism in France, now the largest Buddhist monastery in Europe and the heart of a growing community of mindfulness practice centers around the world. He passed away in 2022 at the age of 95 at his root temple, Tu Hieu, in Hue, Vietnam.

Jason DeAntonis is an award-winning polymathic Bay Area artist, known for his fine carpentry and detailed woodwork. He has also worked in sculpture, costume design, glass blowing, painting, printmaking, and book illustration. His work has appeared in Parallax Press books Mindfulness in the Garden and the Mindfulness Essentials series, among others. He lives in Berkeley, California.
Praise For…
---
"Thich Nhat Hanh shows us the connection between personal inner peace and peace on earth."
—His Holiness the Dalai Lama
 
"Thich Nhat Hanh is a holy man, for he is humble and devout. He is a scholar of immense intellectual capacity. His ideas for peace, if applied, would build a monument to ecumenism, to world brotherhood, to humanity."
—Dr. Martin Luther King, Jr.
 
"Thich Nhat Hanh's work, on and off the page, has proven to be the antidote to our modern pain and sorrows. Here is a monumental, life-giving mind, preserved as textual force. And that's what I feel reading and practicing his teachings: that I am being acted on by a compassion equal to and pervasive as gravity itself. His books help me be more human, more me than I was before."
—Ocean Vuong, author of On Earth We're Briefly Gorgeous
 
"A glass of water in the desert for those interested in both Buddhism and the world."
—San Francisco Chronicle
 
"Thich Nhat Hanh is a great teacher. I have studied him, his work, his passage through life, with gratitude and joy. Through his writings, his public offerings, his insights, I've gained vision and clarity; I've often felt it would be impossible to find a more lucid, determined, and courageous soul."
—Alice Walker, author of The Color Purple