Florence Griswold: The Keeper of the Artists (Hardcover)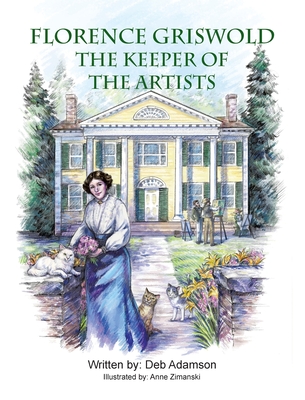 $23.87

NOT on our shelves - Usually Ships in 1-5 Days
Description
---
"Florence Griswold: The Keeper of the Artists" by Deb Adamson, illustrated by Anne Zimanski, is a wonderful book. It tells the true story of Miss Florence Griswold, who is credited with making American art history by establishing the Lyme Art Colony, the epicenter of U.S. Impressionism, which still exists today nearly 100 years later. Florence called herself, "The Keeper of the Artists" and through the late 1800's and early 1900's played hostess to some of the most famous artists in American history. It was artist Henry Ward Ranger who initially established Griswold House as a Barbizon art-colony but then years later with the arrival of Childe Hassam it was transformed into one of the largest and most famous, American home of Impressionism.
The artists never really minded the run-down appearance of Griswold House. They enjoyed low rent and beautiful scenery, which was what drew them to be together there year after year, encouraging each other and going on to sell more and more paintings valued by city people.
Florence Griswold's home and story can be experienced today by visitors to Miss Florence's house. After her death, in 1937 her artist friends founded The Florence Griswold Museum, located in Old Lyme, Connecticut. www.florencegriswoldmuseum.org]
This museum tells the story of Miss Florence's days living amongst her many cats and dogs, two or three, hosting famous artists and even a future president of the United States and his artist wife. Visitors get to see a turn-of-the-century art colony and those famous door and wall-panel paintings, all left as forever gifts to her, the woman The New York Times called, "The Patron Saint of Artists."
Miss Florence's reputation as a gracious and generous woman is exemplified in the story of artist Willard Metcalf's offer to gift her, as payment for boarding, a painting of The Griswold House called "May Night." Miss Florence refused because she told him it was his best work ever. As usual, she was right. And yet, Miss Florence continued to struggle financially. That is, until the artists surprised her, paying her overdue bills, and then dramatically renovating her home, giving it, and her, new life.