Guitar & Music Theory: The Complete Guide On How To Play The Guitar. Includes Lessons, Chords, Tabs, Songwriting & Everything You Need To Fas (Paperback)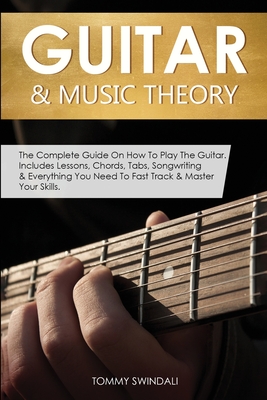 $19.99

NOT on our shelves - Usually Ships in 1-5 Days
Description
---
Everything You Need To Know About "How To Play The Guitar" In One Place
Grab your chance to own this comprehensive guide by Tommy Swindali for Learning To Play The Guitar For Beginners & The Advanced
Including:
Guitar for Beginners: Stop Struggling & Start Learning How To Play The Guitar Faster Than You Ever Thought Possible.
Guitar Music Theory: Fast Track Your Guitar Skills With This Essential Guide to Music Theory & Songwriting For The Guitar.
Whether you're young or old, there's no better feeling than learning to play an instrument. Sadly, most people believe that they will never learn how to play Guitar.
Local guitar teachers seem like a great option at first, but you could risk getting stuck with a wannabe rock star who can't really teach you. Or you could try reading but most books are far too bulky and will leave you no better than where you started.
The solution isn't to avoid, but to learn and to face the challenge head on. These concepts are not hard to understand. In this book you will be provided with the essential theories, skills, and techniques you need to play the guitar.
Inside you will find clear charts, tips and diagrams - not complicated language. I will not leave anything on assumption. So if you come across something you think is too complicated, have no fear it will be explained in time.
Go from knowing nothing about the guitar to playing songs everybody loves....even if you've never touched a guitar before or have no musical knowledge.
In this book you will discover:
Guitar Theory Cheat Sheets & Easy To Follow Diagrams
How to Pick A Guitar for A Beginner (avoid these mistakes)
Improvisation Tips - Turn An Average Into An Awesome Guitar Player
Prevent Bad Habits & Get Fast Results
Funk, Blues, Rock, Acoustic And Many More Styles From Guitar Legends
Visualization Methods to Improve Musicianship & Performance
Learn The Circle Of Fifths + Why ALL Guitarists Need It
Songwriting Tips For Guitar Players + How To Overcome Songwriter's Block
Chords That Will Allow You To Easily Play Millions Of Songs
Common Challenges When Learning to Play the Guitar & How to Overcome Them
And much, much more...
Imagine being the star at the party where everyone loves you for your new musical talent. Whether you've had dreams of becoming a rock star or you just want to learn to play your favourite songs for friends and family.
What are you waiting for?
Learn To Play The Guitar With This Complete Guide