Search for Books
ABA Mobile Menu
Outrider: Poems, Essays, Interviews (Paperback)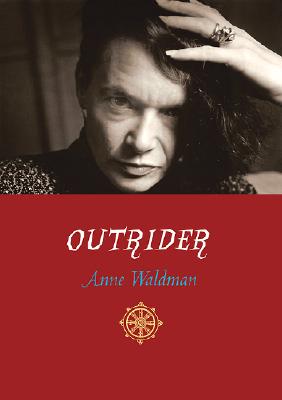 $18.00
Special Order from the publisher
Description
---
Anne Waldman has been speaking about the "outrider" tradition since 1974 when she and Allen Ginsberg founded the Jack Kerouac School of Disembodied Poetics at Naropa, a Buddhist-inspired university in Boulder, Colorado. This book gathers essays, poems and rants, an interview with her by Matthew Cooperman, and an interview by her with Nicaraguan poet Ernesto Cardenal in an attempt to further articulate a sense of this tradition from Walt Whitman to the present. Not a dry presentation, this book is a fierce and loving look at what poetry can be. Outrider is an invocation of "lineage" as a challenge toward examining the practice of poetry and the links of its history. This awareness of lineage encompasses both what has been inherited and what needs be passed on.
Waldman's Outrider will be a provocative contribution to a post-millennium poetics.
"The Outrider holds a premise of imaginative consciousness. The Outrider rides the edge--parallel to the mainstream, is the shadow to the mainstream, is the consciousness or soul of the mainstream whether it recognizes its existence or not. It cannot be co-opted, it cannot be bought. Or rides through the chaos, maintaining a stance of 'negative capability, ' but also does not give up that projective drive, or its original identity that demands that it intervene on the culture. This is not about being an Outsider. The Outrider might be an outlaw, but not an outsider. Rather, the outrider is a kind of shaman, the true spiritual 'insider.' The shaman travels to zones of light and shadow. The shaman travels to edges of madness and death and comes back to tell the stories."--from the essay "Premises of Consciousness: Notes on 'Howl'"