Ballets Russes Style: Diaghilev's Dancers and Paris Fashion (Paperback)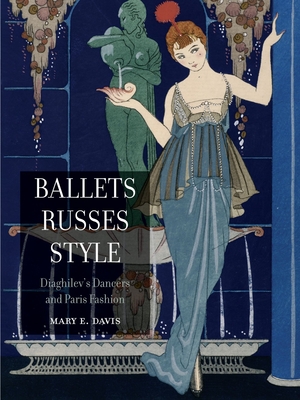 $46.55

If not in stock, we can Special Order from the publisher
Description
---
In the two decades between its debut performance and the death of impresario Sergei Diaghilev in 1929, the Ballets Russes was an unrivalled sensation in Paris and around the world. But while scholarly attention has often centered on the links between Diaghilev's troupe and modernist art and music, there has been surprisingly little analysis of the Ballets' role in the area of tastemaking and trendsetting. Ballets Russes Style addresses this gap, revealing the extent of the ensemble's influence in arenas of high style—including fashion, interior design, advertising, and the decorative arts.
In Ballets Russes Style,  Mary E. Davis explores how the Ballets Russes performances were a laboratory for ambitious cultural experiments, often grounded in the aesthetic confrontation of Russian artists who traveled with the troupe from St. Petersburg—Bakst, Benois, and Stravinsky among them—and the Parisian avant-garde, including Picasso, Matisse, Derain, Satie, Debussy, and Ravel. She focuses on how the ensemble brought the stage and everyday life into direct contact, most noticeably in the world of fashion. The Ballets Russes and its audience played a key role in defining Paris style, which would echo in fashions throughout the century.
Beautifully illustrated, and drawing on unpublished images and memorabilia, this book illuminates the ways in which the troupe's innovations in dance, music, and design mirrored and invigorated contemporary culture.
About the Author
---
Mary E. Davis is professor of musicology at Case Western Reserve University. She is the author of Classic Chic: Music, Fashion, and Modernism and Erik Satie, the latter also published by Reaktion Books.
Praise For…
---
"The historian Mary E. Davis's
Ballets Russes Style: Diaghilev's Dancers and Paris Fashion
  traces the costumes' influence, from Paul Poiret's 1910s harem pants and togas to Karl Lagerfeld's 2009 collection with Russian models wearing Cossack boots."
— Eve M. Kahn
"A wonderful addition to the large body of literature available on the topic, this contribution by Music historian, Mary E. Davis , is a small, compact and well-organized book focusing specifically on the impact the troupe had on designers working at the time of Diaghilev (1909 to 1929). . . . Particularly interesting in this slim volume, the introductory material provides a brief history of popular notice of the Ballets Russes in modern times, from Yves Saint Laurent, to various exhibitions of theatrical costumes (including Diana Vreeland) as well as auction histories leading up to current times."
— Heather Vaughan
"A wonderful descriptive account of the Ballets Russes from its inception to its demise, emphasizing the relation of the company and its development to the fashion and arts world. Written with great clarity it explores these relationships in detail. Most informative and insightful."
— Elizabeth Wilson
"Davis's vantage point offers intriguing insights into the broader cultural impact of Diaghilev's enterprise. Her book is a welcome addition to recent scholarship on the Ballets Russes and its enduring allure."
— Times Higher Education
"The 'legendary command' of the Ballets Russes impresario was simply: 'Astonish me!' A century on from its Paris debut, Diaghilev's dancers continue to do that in this handsome book . . . Mary E. Davis conveys the electric excitement from a collection of talents—music by Stravinsky, sets by Picasso, costumes by Bakst—that has never been equaled."
— Independent