Wholesome Bowls: Food for mind, body and soul (Hardcover)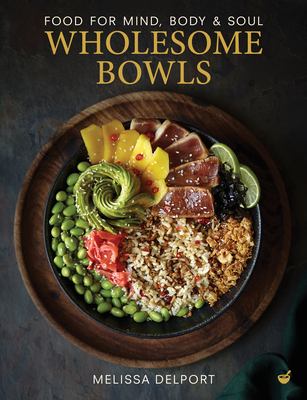 Description
---
All the whole food nourishment you need in one bowl! Wholesome Bowls are the delicious answer to eating mindfully and well.

The nearly 90 recipes included in this book are packed with nourishment, providing healthy, balanced and easy meals in a bowl. Many of the recipes are vegan or vegetarian, or can easily be adapted to suit either lifestyle choice. But there is plenty for the meat-eater too, with the added bonus that not only does the food look inviting and uplifting for the soul, it's good for your body too. There are also snippets of information about some of the ingredients to inform your food choices and why eating fresh, whole foods will benefit you.

Try Turkish Eggs with Spicy Sesame Drizzle for brunch, a Brussels Sprouts, Pear and Horseradish bowl for lunch, and a warming Roasted Celeriac and Mushroom soup or a Chicken Fajita bowl for dinner. For something sweet there's Vegan Sweet Potato and Chilli Brownie bowl or Spice Cake with Cashew Cream Cheese Frosting.


Wholesome Bowls is all about healing your relationship with food. Food is not the enemy and neither is your body. Taking the time to get to know your body, treating it with respect and nourishing it with real, fresh food is the single most important thing you can do for yourself. Eating mindfully, cutting out processed foods and embracing the foods that fuel you and leave you feeling energized are all part of the journey to finding happiness with food.
About the Author
---
Melissa Delport is an international award winning cookbook author, integrative holistic health coach, private chef and wellness retreat facilitator who found fame after entering MasterChef in South Africa. After years of being a fad dieter, Melissa discovered the path to health and wellbeing. Learning to release fear around mealtimes, coupled with her knowledge of food, mindfulness practice, and a desire to share this way of eating, the concept of Wholesome Bowls was born. Find out more: https://melissa-delport.com/