The Food Wars (Paperback)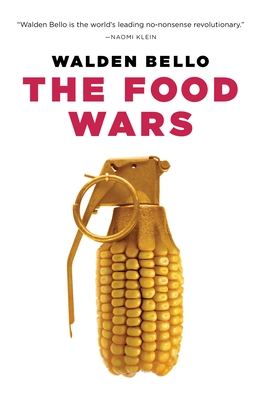 $16.95
Email or call for price.
Description
---
Violent protests across the global South, in response to rocketing food prices from 2006 to 2008, highlighted an intrinsic flaw in the modern system of world trade—one that poses a serious threat to regional and international stability. In The Food Wars, Walden Bello traces the evolution of this crisis, examining its eruption in Mexico, Africa, the Philippines and China. Daring in vision and impassioned in tone, The Food Wars speaks out against the obscene imbalance in the most basic commodities between northern and southern hemispheres.
About the Author
---
Walden Bello is a political activist and Professor of Sociology and Public Administration at the University of the Philippines in Manila, as well as executive director of Focus on the Global South, a policy research institute based in Bangkok and for which he was the Founding Director. He was previously executive director of the Institute for Food and Development Policy (Food First) in Oakland, California and was educated at Princeton University. He has taught at the University of California, Berkeley. In 2003, Bello was awarded the Right Livelihood Award, whose website describes him as "one of the leading critics of the current model of economic globalization, combining the roles of intellectual and activist." Bello is also a fellow of the Transnational Institute (based in Amsterdam), and is a columnist for Foreign Policy In Focus. In March 2008 he was named Outstanding Public Scholar for 2008 by the International Studies Association. Bello is the author of Deglobalization: Ideas for a New Global Economy, Dark Victory: The United States and Global Poverty and Dilemmas of Domination: The Unmaking of the American Empire.
Praise For…
---
"Walden Bello is the world's leading no-nonsense revolutionary."—Naomi Klein

"Walden Bello is the world's best guide to American exploitation of the globe's poor and defenseless."—Chalmers Johnson

"The Food Wars is brilliant and urgently needed ... Walden Bello's ethically grounded argument for food sovereignty, deglobalization and listening to what peasants have to say is essential reading."—Annette Desmarais, La Via Campesina

"A comprehensive and timely corrective to agribusiness-as-usual scenarios for solving the food crisis ... His solutions are compelling and critical for planetary sustainability."—Philip McMichael