Heart Healthy Cookbook After 50: 2 Books in 1: 100+ Fuss-Free, Delicious Recipes that are Low Sodium and Easy to Prepare (Hardcover)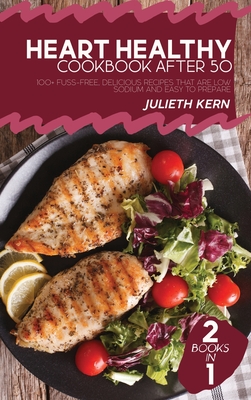 $33.99
Email or call for price.
Description
---
2 BOOKS in 1 BUNDLE
Finally the fastest prep-and-go recipes for low-sodium meals.
Prep, set, and forget about extra steps with this heart healthy cookbook. This easy to follow cookbook provides a simple solution to low-sodium meals with:
- Easy Recipes that prep in 15 minutes or less and require no pre-cooking or further steps
- A Slow Cooker Guide that lists pantry essentials, Dos and Don'ts, plus tips on how to best use your slow cooker for this heart healthy cookbook
By encouraging you to reduce your sodium intake as well as consume potassium/calcium/magnesium-rich foods, you decrease your risk of high blood pressure. You even benefit from reduced risk of getting heart disease, stroke, diabetes, osteoporosis, and cancer. The fact that the Heart Healthy Diet guides you to making healthier food choices also makes it easier for you to lose weight.

Would you like to know more? Grab your copy today to get started