Dutch Oven Cookbook Bundle: Your Only Easy and 2 in 1 Guide to Make Mind-Blowing Meals in a Dutch Pot - Recipes that are Easy to Make, Delicious, (Paperback)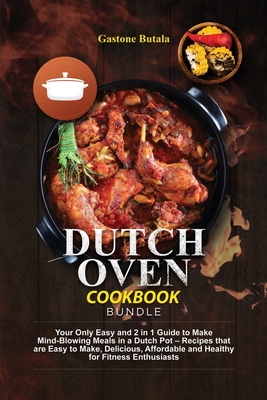 $44.99

If not in stock, we can Special Order from the publisher
Description
---
55% off for bookstores Bundle paperback CLR Only for a Limited Time Discounted Retail Price at $44.99 Instead of $52.99
Do you want a secret skill that will enable you to make restaurant-style meals by using just a single pot at home? Do you want to make dishes faster and better than anyone you know? Do you need to master Dutch Oven cooking in under 30 minutes? If so, this cookbook is for you. To get the secret, read more.
Your customers will be grateful to you for providing them this Easy Dutch Oven Cookbook Bundle.
The Dutch oven has made cooking easy, delicious, and healthy for millions of smart users worldwide. Now you can be one of them and make finger-licking meals at home in minutes. Well, millions of people may be using Dutch ovens to cook meals but only a handful of them cook the most perfect meals. The reason is simply "the recipe". Most people take recipes from the internet and start making a meal, and in the end, it doesn't taste that good. In this cookbook, we have taken recipes from the world's leading chefs and nutritionists, that will enable you to make perfect meals by using a Dutch oven. Moreover, the great thing about the bundle is that you will get double the amount of information to make dozens of different Dutch pot meals in just one single purchase. So, look no further as your personal Dutch oven cookbook bundle is ready for you.
What will you get from the deal?
2 Dutch oven cooking cookbooks so you master Dutch Pot cooking from every angle
The essential introduction for each book
Dozens of delicious recipes to fill your needs for every meal of the day
Conclusion with secret tips and tricks to cook like a master chef
Even if you haven't cooked a meal properly in your life, this cookbook bundle will do wonders for you and make you an expert cook in just a few days.
BUY NOW and let your customers get addicted to this Delicious Dutch Oven Cookbook Bundle