Dutch Oven Cookbook for Beginners: The Complete Step by Step and Easy to Follow Cookbook to Make Delicious, Restaurant Style and Affordable Dutch Cuis (Hardcover)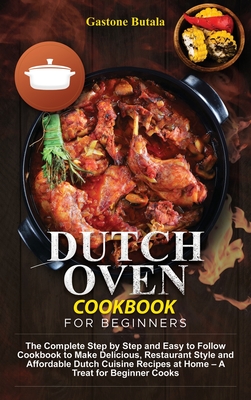 $44.99

If not in stock, we can Special Order from the publisher
Description
---
55% off for bookstores Hardcover CLR Only for a Limited Time Discounted Retail Price at $44.99 Instead of $52.99
You already know that cooking in a Dutch pot is one of the most classic and versatile ways to cook healthy meals at home but the problem is you are not provided with the original and mouth-watering recipes that you can cook in the Dutch oven and make great meals for a happy occasion or cope with your weight loss routine. Well, in this cookbook we have everything you need to make delicious and easy Dutch pot meals, to discover further, read more.
Your customers will be grateful to you for providing them this Killer Dutch Oven Cookbook for Beginners.
Cooking should be fun, it should be fast, healthy, and affordable on the budget. If you are spending hours in the kitchen and are buying expensive ingredients just for the sake of healthy eating, you are kept away from the secrets of smart cooking. We know how conscious you are for your time, money, and top of all that, your fitness. By cooking in the legendary Dutch oven, you can make the most healthy and affordable meals in under 35 minutes. Sounds too good to be true? Well, ladies and gentlemen, it is now possible with the meal plan we have drafted in this cookbook. You will get dozens of dishes to make in a Dutch oven and uplift your weight loss game with style. From a healthy and fast breakfast to making delicious and special dinners in a Dutch oven, the cookbook has something for every mealtime.
Let's have a sneak-peek into the cookbook's content:
Introduction to Dutch oven, the tips, and tricks to get the most out of the cookbook
Delicious recipes such as Dutch Oven Lasagna, Copycat Zuppa Toscana Soup Recipe, Warm-Spiced Saucy Lamb Stew, Kale, And Cannellini Bean Stew, AND A LOT, LOT MORE...
Conclusion
Even if you haven't used a Dutch oven before, don't stretch a muscle, this cookbook will make you an expert Dutch pot chef.
BUY NOW and let your customers get addicted to this Delicious Dutch Oven Cookbook for Beginners.