Copycat Recipes Cookbook: 200 Tasty and Famous Recipes From The World's Most Popular Restaurants, To Cook Comfortably At Home. Learn About Every (Hardcover)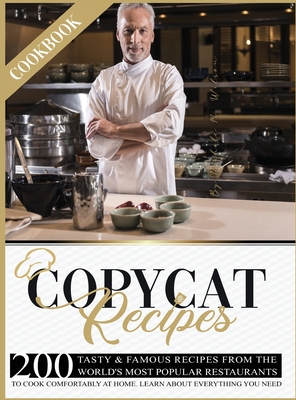 $35.00
If not in stock, we can Special Order from the publisher
Description
---
★ SATISFY ALL YOUR WISHES ON THE BEST RECIPES OF THE MOST FAMOUS RESTAURANTS IN THE COMFORT OF YOUR HOME. ★
✓ Are you looking for a cookbook to help you achieve success in every recipe?
✓ Do you want to save money while still getting great and enviable results in a short time?
Well, if the answer is YES, keep reading.
We have reached a historic age where we have less and less time and sometimes it almost seems like it escapes our hands, do you agree? If so, I want to tell you that you're not alone. We are constantly called upon to solve important commitments that do not give us time to breathe for a moment, let alone cook at home
Most people often go out to eat at a restaurant to save time; sometimes it can be a good idea, but with the passing of time, how will our wallets be? We understand each other.
Try to think about how much money you could save if you started cooking these spectacular recipes at home Not to mention the fun and satisfaction of seeing your dish made The pleasure of cooking together with your friends, family or partners is incredible - do not miss these moments of joy in your life.
This cookbook can turn your home kitchen into a magical place where you can easily prepare more than 200 SUPER RECIPES for every occasion in a short time and save a lot of money.
Everyone will want to eat these dishes cooked by you But what will you find in this cookbook?
What are the advantages of cooking at home?
- How to better plan your work. ★
- Why is food safer at home? ★
- How to easily overcome obstacles in the kitchen. ★
- Over 200 delicious recipes. ★
✓ Are you ready, chef? Start now and show everyone who you are
◆ Click to buy now ◆