The Middle Ages and the Movies: Eight Key Films (Hardcover)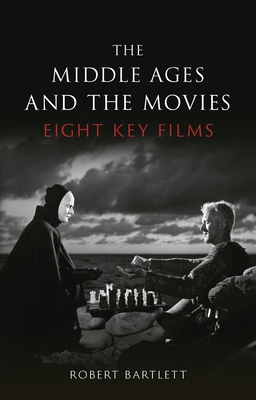 Description
---
From Ingmar Bergman's The Seventh Seal to Monty Python, an investigation into how eight key films have shaped our understanding of the medieval world.
 
In The Middle Ages and the Movies, eminent historian Robert Bartlett takes a fresh, cogent look at how our view of medieval history has been shaped by eight significant films of the twentieth century. The book ranges from the concoction of sex and nationalism in Mel Gibson's Braveheart, to Fritz Lang's silent epic Siegfried, the art-house classic The Seventh Seal, and the epic historical drama El Cid. Bartlett examines the historical accuracy of these films, as well as other salient aspects—how was Umberto Eco's Name of the Rose translated from page to screen? Why is Monty Python and the Holy Grail funny? And how was Eisenstein's Alexander Nevsky shaped by the Stalinist tyranny under which it was filmed?
About the Author
---
Robert Bartlett is the Bishop Wardlaw Professor of Mediaeval History Emeritus at the University of St Andrews, Scotland. His many books include the Wolfson Prize–winning The Making of Europe: Conquest, Colonization and Cultural Change 950–1350. He has also written and presented three television series for the BBC: Inside the Medieval Mind, The Normans, and The Plantagenets.
Praise For…
---
"Informed criticism where these films inevitably fall factually short. . . . Bartlett's knowledge of the Middle Ages is beyond reproach. He focuses on one film at a time, though deftly interlacing and comparing them when it reinforces his point. An intriguing and detailed discussion."
— Library Journal

"Images of another sort are central to this book, which considers Braveheart (1995), The Name of the Rose (1986), Monty Python and the Holy Grail (1975), Andrei Rublev (1966), El Cid (1961), The Seventh Seal (1957), Alexander Nevsky (1938), and Die Nibelungen: Siegfried (1924). If you are part of a small group, you could propose a reading of the book and a viewing of the films over several months."
— First Things

"This book will entertain and intrigue historians and film buffs alike. In a wide-ranging critical study of the creative process that tackles head-on the exchange between historical fact and artistic license, Bartlett shows how twentieth-century cinema's variously imagined Middle Ages speak as much to modern sensibilities as to any reconstructed past."
— Christopher Tyerman, professor emeritus of the history of the Crusades, University of Oxford

"Bartlett here trains his medieval historian's eye on eight iconic films, pointing to historical accuracies and inaccuracies, and telling readers why these matter. One major recurring theme is how filmmakers can create a persuasive and engaging movie set in a distant era for modern viewers. Rich in anecdotes, this well-written and beautifully illustrated volume is chockablock with film, literary, and cultural references, not only to those in the past but to other historical periods right up to the present. Bartlett's book will appeal to fans, students, and teachers, but for scholars already familiar with these films, there is still plenty to be learned."
— Martha W. Driver, distinguished professor of English, Pace University, coeditor of "The Medieval Hero on Screen" and "Shakespeare and the Middle Ages"