The Paperback Sleuth - Death in Fine Condition (Paperback)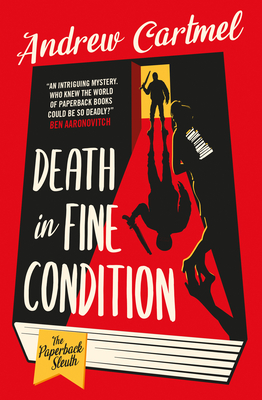 $16.95

NOT on our shelves - Usually Ships in 1-5 Days
Description
---
Launching a new series, a cast of lovable rogues face fiendish puzzles and murderous villains in this love letter to Agatha Christie murder mysteries and classic whodunnits.

Introducing a new series from the creator of the beloved, bestselling Vinyl Detective novels.

Cordelia knows books. An addict-turned-dealer of classic paperbacks, when she's not spending her days combing the charity shops and jumble sales of suburban London for valuable collector's items, she's pining for the woman of her dreams and nimbly avoiding her landlord's demands for rent.

The most elusive prize of all, her white whale, has surfaced — a set of magnificent, vintage Sleuth Hound crime novels. Gorgeous, and as rare as they come. Just one problem. They're not for sale. Still, that won't stop a resourceful woman like Cordelia… One burglary later, the books are hers. Unfortunately, the man she's just robbed turns out be one of London's most dangerous gangsters, and now he's on her trail and out for blood.

Cordelia's best laid plans to pay the rent and woo the object of her affections start to fall apart, and she realises she may have placed herself in the crosshairs of a villain torn straight from the pages of her treasured novels.
About the Author
---
Andrew Cartmel was born in London and grew up in midwestern Canada where, among other things, he learned the meaning of the words "wind chill factor." The fine public libraries of his childhood provided a rich feast (Ray Bradbury, Robert Heinlein, the Oz books) and Andrew never wanted to be anything except a writer. On returning to London to study at university, his game plan was to support himself writing for television while getting established as a novelist. This led him into a detour — and down a rabbit hole — which included a distinguished sojourn script editing Doctor Who for three years (search "Cartmel masterplan"). At the same time, he began writing for comics and today he co-writes the Rivers of London graphic novels. A playwright and crime novelist, Andrew created the Vinyl Detective while listening to a lot of music, most of it good. Most of it very good. Andrew Cartmel lives in London with too many books, too many records and just enough cats.
Praise For…
---
"Cartmel has never been better than in this darkly funny series kickoff... Fans of Lynne Truss's Constable Twitten novels will find much to love." –Publishers Weekly Starred Review

"Devilishly clever… richly suspenseful … readers will be primed for more." –Booklist

"An intriguing mystery with an amoral protagonist. Who knew the world of paperback books could be so deadly?" Ben Aaronovich 


"Andrew Cartmel introduces a new kind of heroine, entirely immoral, somewhat venal and slightly foxed." David Quantick, Emmy award-winning producer of VEEP

"A quirky crime yarn bound to hit the sweet spot for mystery lovers." Kirkus Reviews


"Sex and murder and paperbacks? Yes please!" Ben Aaronovich