Illuminatlas (Illumi: See 3 Images in 1) (Hardcover)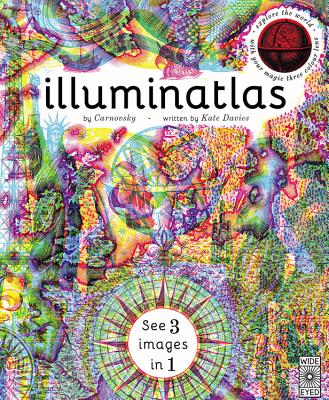 Description
---
Set off on a journey around the world like no other! Use your three-color lens to explore the continents: use your green lens to see the landscape, the red lens to see plants and animals, and the blue lens to see cultural highlights and famous buildings. Packed with facts and stunning illustrations, this is an inspirational atlas from Milan-based design duo Carnovsky, and follow up to the internationally best-selling Illuminature. 
With every illustration containing three separate layers to pore over, this book will reward rereading again and again, providing hours of independent entertainment and education for young readers.

See 3 images in 1 with the eye-boggling Illumi series, featuring magic-lens artwork from creative design duo Carnovsky. Dinosaurs, animals, the human body, and even ghosts are envisioned like never before in this groundbreaking series. The explosions of color on each page are in fact three distinct layers of illustrations, each exploring a different aspect of a fascinating subject. Use the three-color lens to reveal the hidden details on each one, then read all about the topic on in-depth fact pages. There's always something new to discover in Illumi!

Also available from the Illumi series: Illumanatomy, Illuminature, Illuminightmare, and Illumisaurus.
About the Author
---
Milan-based design duo Carnovsky was started by Silvia Quintanilla and Francesco Rugi in 2007. They have gained wide recognition for their RGB project, first displayed in 2010. Their work has been published in magazines around the world, such as Vogue, Wired, Frame, Wallpaper, Elle Decor, and Whitewall. Their wallpaper 'Jungla' won the 2012 Wallpaper Magazine Design Award for Best Wallpaper.
Kate Davies was born and brought up in north-west London, UK. She studied English at Oxford University before becoming a writer and editor of children's books. She also writes comedy scripts and is the author of the best-selling novel for adults, In At the Deep End, which published in 2019. Kate lives in east London with her wife.