Tin Can Magic: Easy, Delicious Recipes Using Pantry Staples (Paperback)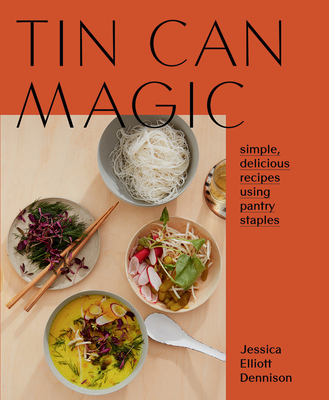 $22.99
On Our Shelves Now. Click on the title to see details.
Description
---
Tin Can Magic is full of easy, delicious recipes using pantry staples. After the success of her first book Salad Feasts, author Jessica Elliot Dennison was told again and again that the most-cooked recipes in the book were the ones where readers already had the main ingredient sitting in their kitchen. Working in a tiny cafe kitchen with limited shelf and fridge space, Jessica understands the importance of having a capsule-wardrobe style pantry of cheap, familiar canned items that can be tweaked every week to create an interesting, seasonal menu. This book is an answer to this – focusing on easy meal solutions based around what readers might already have to hand, with smart ideas for adding flavor, freshness and contrast. Try your hand at Chili ramen-style noodles with spicy tuna and spring onion; Cumin and sesame roast chicken thighs, silky butter bean hummus, charred lemon and toasted almond; or Crispy coconut milk pancakes with shrimp and garlic vinegar. If you're in the mood for something sweet, why not rustle up the Cherry and hazelnut clafoutis, Frangipane gazettes or Miso caramel? Tin Can Magic shows you that, with a little bit of guidance, and a can or two from the back of the cupboard, you can create mouthwatering meals for any night of the week.
About the Author
---
Jessica Elliot Dennison is self-taught in the kitchen, her flavors and straightforward approach inspired by seasonal vegetables and time spent living in Sydney and Bangkok. Before opening 27 Elliot's, a neighbourhood café, workshop and supper club space in her hometown, Edinburgh, Jess worked as a food stylist in London on cookbooks, magazines, adverts and TV for clients including Fremantle, Waitrose, Sainsbury's, Pip&Nut, Observer Food Monthly, Dorset Cereals, Majestic Wine and Phaidon. Jess previously worked in marketing as part of Jamie Oliver's retail team, responsible for the chef's 1000-product food and homeware range. She is a regular contributor to modern business magazine Courier and writes the weekday-suppers feature for Liz Earle's wellbeing magazine.
Praise For…
---
"One of the best cookbooks for these times is Jessica Elliott Dennison's Tin Can Magic, which contains elevated dishes from nine different canned foods, including coconut milk, anchovies, tomatoes, and sweet corn. Each recipe is easy to follow, requires few fussy ingredients, and yields dishes that look like something from your favorite farm-to-table restaurant." - Outside Online