The Book of Paradise: A Yiddish Comic Novel (Pushkin Press Classics) (Paperback)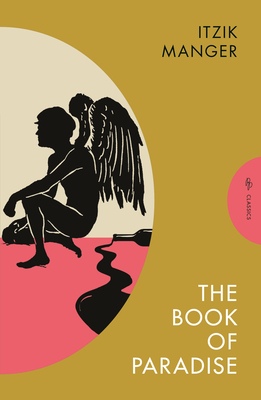 Description
---
"Electrifying…sparkles with Manger's song and poetry, and is brilliantly layered with literary and folkloric references." — Tablet

"There is something joyous about Manger's playful language." — The Jewish Chronicle

The raucously witty Yiddish classic about a Jewish Paradise afflicted by very human temptations and pains — a delightful new translation perfect for fans of Michael Chabon

Witty, playful and slyly profound, this story of a young angel expelled from Paradise is the only novel by one of the great Yiddish writers, which was written just before the outbreak of World War II.

As a result of a crafty trick, the expelled angel retains the memory of his previous life when he's born as a Yiddish-fluent baby mortal on Earth. The humans around him plead for details of that other realm, but the Paradise of his mischievous stories is far from their expectations: a world of drunken angels, lewd patriarchs and the very same divisions and temptations that shape the human world.

Published here in a lively new translation by Robert Adler Peckerar, The Book of Paradise is a comic masterpiece from poet-satirist Itzik Manger that irreverently blurs the boundaries between ancient and modern and sacred and profane, where the shtetl is heaven, and heaven is the shtetl.
About the Author
---
Itzik Manger was born in 1901 in Czernowitz (then Austria–Hungary; now Chernivtsi, Ukraine). He began publishing poems after WWI, moving to Bucharest where he wrote for the local Yiddish press. Relocating to Warsaw in 1928, Manger found considerable success publishing his own literary journal, doing public readings and composing Yiddish lyrics for the cabaret and film. Manger began writing The Book of Paradise in the mid-1930s amid rising anti-Semitism. Forced to leave Poland in 1938, Manger published The Book of Paradise as a stateless person in Paris. He later moved to England and then the U.S. before settling in Israel, where he died in 1969.

Robert Adler Peckerar, a translator and cultural historian, is the Executive Director of Yiddishkayt, the West Coast's premier Yiddish cultural organization and the CEO of the Topa Institute, an intercultural arts and education center based in the Ojai Valley, California. He lives in Southern California with his family.
Praise For…
---
"Electrifying…sparkles with Manger's song and poetry, and is brilliantly layered with literary and folkloric references." — Tablet

"There is something joyous about Manger's playful language." — The Jewish Chronicle