The Village of Eight Graves (Detective Kindaichi Mysteries #35) (Paperback)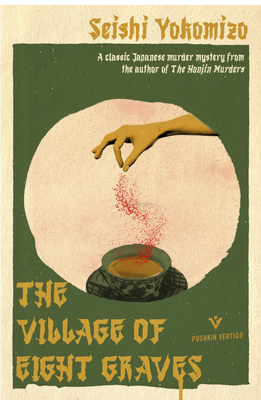 Other Books in Series
This is book number 35 in the Detective Kindaichi Mysteries series.
Description
---
The third title in Japan's most popular murder mystery series -- after The Honjin Murders and The Inugami Curse -- fiendish classics featuring investigator Kosuke Kindaichi.

Translated into English for the first time.

Nestled deep in the mist-shrouded mountains, The Village of Eight Graves takes its name from a bloody legend: in the Sixteenth Century eight samurais, who had taken refuge there along with a secret treasure, were murdered by the inhabitants, bringing a terrible curse down upon their village.

Centuries later a mysterious young man named Tatsuya arrives in town, bringing a spate of deadly poisonings in his wake. The inimitably scruffy and brilliant Kosuke Kindaichi investigates.
About the Author
---
Seishi Yokomizo (1902-81) was one of Japan's most famous and best-loved mystery writers. He was born in Kobe and spent his childhood reading detective stories, before beginning to write stories of his own, the first of which was published in 1921. He went on to become an extremely prolific and popular author, best known for his Kosuke Kindaichi series, which ran to 77 books, selling more than 55 million copies and spawning many stage and television adaptations. The Honjin Murders is the first Kosuke Kindaichi story, and regarded as one of Japan's great mystery novels. It won the first Mystery Writers of Japan Award in 1948 but has never been translated into English, until now. Seishi Yokomizo's The Inugami Curse is also available from Pushkin Vertigo, while Gokumon Island is forthcoming.
Praise For…
---
"Kosuke Kindaichi, the scruffy investigating detective, bears more than a passing resemblance to Columbo who made his TV debut in 1971 — which, coincidentally, is when this amusing novel was first published in Japan."
--The Sunday Times Crime Club (UK)

"This taut mystery provides an original variation on The Hound of the Baskervilles… Kosuke Kindaichi, Yokomizo's Columbo-like sleuth, arrives to sort through the tangled puzzle and provide a satisfying solution. Fans of gothic-tinged fair play will be enthralled"
-- Publishers Weekly (starred review)