The Innovative Artist: Art of Pyrography: Drawing with fire (Paperback)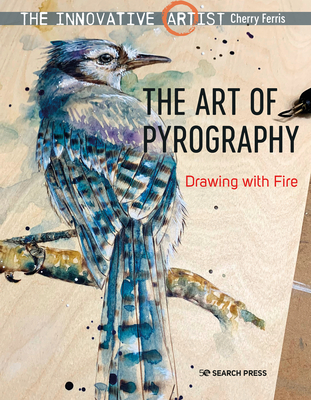 Description
---
Learn to burn: illuminate your pyrographic art with mixed media, gilding and natural materials.
Cherry Ferris throws open the world of wood burning with a new art-led approach and shows you how to use different media and materials to set off your pyrographic artwork.
Packed with encouraging, practical and insightful advice on pursuing your own artistic path, this book covers everything you need to draw with fire – whether you are an experienced pyrographer or want to expand your horizons with a new medium. Containing:
A brief overview and history of the subject
A tools and equipment section
An introduction to the basic techniques and information on surfaces that you can safely burn.
How to transfer designs onto surfaces and incorporate a mixed media approach by looking at shading techniques
Introducing color into your work
Playing with backgrounds
How to protect your finished pieces.


Chapters include:
Color: Incorporating colored pencils (for bright rainbow shades), watercolor (for its luminous transparency) and oils (for their buttery, blendable consistency and jewel-like colors)
Using resin to finish your work – which results in a beautiful glass-like finish
Using gold leaf to add a touch of magic
About the Author
---
Cherry is a self taught artist who explores the beauty, detail and complexity of the wonderful world around us, particularly its animals and nature. She likes to use many types of media and is versed in pyrography, pastels, watercolour, coloured pencils and oils. Cherry also loves the heightened detail in botanical illustration and often uses these techniques alongside many others to create her eclectic variety of art forms.
Cherry often uses the art of pyrography within her work to burn or scorch designs onto natural materials and surfaces, such as wood panels and rag paper. Inspired by her fascination with colour, pigment and materials, Cherry is at her happiest when she is able to bring them together to create a piece of art.
Cherry has had her work shown at the Wildwood Gallery on Dartmoor, the Derwent Pencil Museum at Keswick, The Wildlife Art Society International, and the South West Academy Fine and Applied Art Open Exhibition 2019. Her work sells well, and is in private collections both in the UK and overseas. She also runs workshops for beginners to more advanced pyrographers in which people have an opportunity to learn the essential techniques and to experiment with new ones.
Cherry lives in Devon, UK.

Praise For…
---
I would add this to my ever-lengthening list of 2022's innovations, but I'm pretty sure pyrography has been written about before, albeit more as a craft, maybe a curiosity, than as art. This is the first book to cross my desk, anyway. It's also worthy of note that this appears in Search Press's The Innovative Artist series, which betokens both a broad coverage and a move of the technique into something more mainstream.

As you might expect, this is not a beginner's guide, nor should it be. I think we can accept that those exist and that this is as much a showcase for an experienced practitioner as it is a book of instruction. That said, there's plenty of technical analysis to get your teeth into here. Someone wanting to pursue this as art will find a great deal to occupy and challenge them and the results are simply stunning... This is basic techniques for the more experienced worker who mainly wants to make sure they're on the right track and learn from a master.

... this is an astonishing book that will open your eyes to work you probably didn't think possible. The detail and subtlety of shade and colouring that Cherry achieves is remarkable and looks more like painting or drawing. There's much to learn and this is a book you're going to want to spend a lot of time with – I'd go so far as to say that, if you price a book by the number of hours spend between its covers, this is definitely well below minimum wage.

Will you ever manage to achieve the same results as Cherry? Well, it wouldn't be for want of trying, on your part or hers.
Henry Malt, Art Book Review