The Temple of Perfection: A History of the Gym (Hardcover)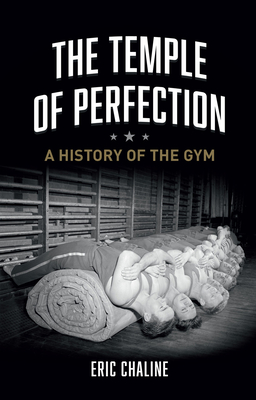 $36.30

If not in stock, we can Special Order from the publisher
Description
---
These days there is only one right answer when someone asks you what you are doing after work. Hitting the gym! With an explosion of apps, clothing, devices, and countless DVDs, fitness has never felt more modern, and the gym is its holy laboratory, alive with machinery, sweat, and dance music. But we are far from the first to pursue bodily perfection—the gymnasium dates back 2,800 years, to the very beginnings of Western civilization. In The Temple of Perfection, Eric Chaline offers the first proper consideration of the gym's complex, layered history and the influence it has had on the development of Western individualism, society, education, and politics.
           
As Chaline shows, how we take care of our bodies has long been based on a complex mix of spiritual beliefs, moral discipline, and aesthetic ideals that are all entangled with political, social, and sexual power. Today, training in a gym is seen primarily as part of the pursuit of individual fulfillment. As he shows, however, the gym has always had a secondary role in creating men and women who are "fit for purpose"—a notion that has meant a lot of different things throughout history. Chaline surveys the gym's many incarnations and the ways the individual, the nation-state, the media, and the corporate world have intersected in its steamy confines, sometimes with unintended consequences. He shows that the gym is far more than a factory for superficiality and self-obsession—it is one of the principle battlefields of humanity's social, sexual, and cultural wars.
Exploring the gym's history from a multitude of perspectives, Chaline concludes by looking toward its future as it struggles to redefine itself in a world in thrall to quick fixes—such as plastic surgery and pharmaceuticals—meant to attain the gym's ultimate promises: physical fitness and beauty. 
About the Author
---
In addition to being a historian and writer, Eric Chaline is a qualified personal trainer, yoga teacher, weightlifting instructor, and swimming coach. He is the author of several books, including History's Lost Treasures and Fifty Minerals that Changed the Course of History. He lives in London.

Praise For…
---
"There were so many rich connections in this book that by the time you sweep through two millennia to the moment when Arnold Schwarzenegger became the posing-pouch politician, who, while pumping iron, said things like, 'I was always dreaming about very powerful people, dictators and things like that,' a lot of things clicked into place. . . . Humans are now machined in these body factories to better serve their corporate masters." 
— Times

"The book is learned and well-researched. . . . It also furnishes some pretty interesting history."
— Spectator

"An amusing and comprehensive tour." 
— Commercial Dispatch

"The narrative, peppered with a number of amusing, as well as 'I didn't know that' anecdotes, makes for an engaging read, even for those not seeking to discover the sweat-stained origins of civilised thought."
— Sports Book of the Month.com

"A grounded perspective on today's representations of the physical—from world-class soccer players to contestants on American Ninja Warriors."
— Choice

"Chaline's book is full of interesting information, not to mention its useful historical overview and its clear prose."
— Gay & Lesbian Review