Batman's Mystery Casebook (Paperback)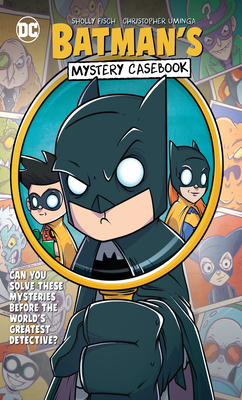 Description
---
Have you ever needed help solving a mystery? Batman has!

Batman is a great detective, but he rarely works alone. His sidekicks Robin and Batgirl, his butler Alfred, and the police of Gotham City all play a role in helping him keep his city safe. You can too!

Look for clues!
Analyze evidence!
Solve riddles!
Learn history!

Help the Batman as he goes on his adventures and see if you can spot the answers to these mysteries before he logs them into his casebook.
About the Author
---
Sholly Fisch is a mild-mannered developmental psychologist who has helped produce dozens of educational TV series, digital games, magazines, and hands-on materials, including Sesame Street, Cyberchase, The Magic School Bus Rides Again, The Cat in the Hat Knows a Lot About That, and lots of things you've probably never heard of. He's spent more than 30 years writing everything from Superman to Star Wars to Scooby-Doo. He lives with his lovely wife, Susan, and his brilliantly talented children, Nachum, Chana, and Miriam, who hope he'll get more sleep someday.