For the Love of Beef: The Good, the Bad and the Future of America's Favorite Meat (Paperback)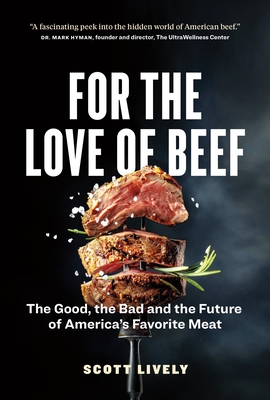 Description
---
We don't eat beef to stay alive, we eat it to feel alive.

We eat beef for the experience. We eat it for the texture, the aroma, the atmosphere. Whether it's prepared in a backyard or a bistro, North Americans LOVE beef. Look at it this way: the French have their wine, the Germans have their beer—and the Americans have their beef.

From hamburgers to meatballs, briskets to ribeyes, the average American eats almost 60 pounds of beef every year. Yet, how well do you know the steak on your plate, the roast in your oven, or the ground beef in your freezer? Where does it come from—Texas, Nebraska, Uruguay, or Australia? Is it true that the meat from thousands of cows is in just one pound of hamburger? And, if so, how safe is it? And what about hormones and antibiotics?

Scott Lively, president of Raise American, cuts through the bull and brings you the truth about the Big Beef industry in this essential guide to all things beef. You'll find out what packers, grocers, and the government know, but don't have to tell you. You'll learn how to look at a cut of beef and know whether it's clean, green, and healthy, or came from an old dairy cow. You'll find out what "grass fed" really means (and what it doesn't), and how the USDA actually measures the quality of your beef. And you'll understand what sustainable cattle farming is, and how it can benefit your health and the environment.

For the Love of Beef has the answers to the questions you never knew you had about your favorite meat, written by one of the foremost authorities in the beef industry. Whether you're a budget-minded consumer or would-be connoisseur, you'll never look at beef the same way again.
About the Author
---
Scott Lively, president of Raise American, is an organic food entrepreneur and an absolute freak about beef. Scott left a successful career in the IT industry to found the U.S.'s largest organic beef producer. Today, he oversees a broad portfolio of company and private label and brands. A self-professed beef geek, he boasts that he knows every cut of beef as if he cut it himself. He divides his time between Scottsdale, Arizona, and Martha's Vineyard. Scott is an advocate of local economic development and regenerative farming practices applied to large agriculture.