Picasso: Soul on Fire (Paperback)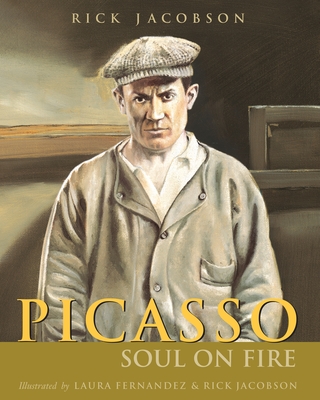 $8.95

If not in stock, we can Special Order from the publisher
Description
---
Modern art has a language, and when it is learned it opens the door to a lifetime of enjoyment and appreciation. In Picasso: Soul on Fire, Rick Jacobson and Laura Fernandez present more than the story of the painter's life. By exploring his influences and his creative process, they give young readers the tools with which to understand his work.

Picasso was certainly an expert draftsman – his rendering of pigeons' feet by the time he was eleven was so detailed that his artist father recognized the boy's genius and stopped painting. But he is remembered for taking art in directions that have made us redefine how we see the world. This beautifully illustrated homage is not only an introduction to one of the most important artists of the last century, but a splendid introduction to modern art.
About the Author
---
RICK JACOBSON has written three children's books, and with Laura Fernandez, has illustrated seventeen. Together they have won numerous awards for their work, including the Toronto Art Directors' Awards, Communication ArtsMagazine's Award of Excellence, American Illustration Award of Excellence, and the New York Art Directors' Award of Excellence. His commissioned portraits include Margaret Atwood, Robertson Davies, Christopher Ondaatje, and David Thomson. He lives in Toronto, Canada, with his family.

Award-winning illustrator LAURA FERNANDEZ was born in Spain, and immigrated to Canada as a young child. With Rick Jacobson she has won many awards for work in advertising and publishing. Laura Fernandez has illustrated over seventeen published children's books. She lives in Toronto with her family.
Praise For…
---
PRAISE FOR PICASSO: SOUL ON FIRE:
"This eloquent tribute will serve as an introduction to Picasso and to an artist's inspirations."
– School Library Journal

"…with its unusual portraits and basic introduction to cubism and Picasso's life, this will be an intriguing addition to the surprisingly slender offerings about the artist for this age group."
– Booklist

"Budding artists will enjoy checking out Picasso: Soul on Fire… Jacobson does a good job of telling not only the details of Picasso's life but also explaining how he changed from a traditional artist to a revolutionary painter. Laura Fernandez's illustrations are large and appealing."
—Winnipeg Free Press