How to Start a Side Hustle (Paperback)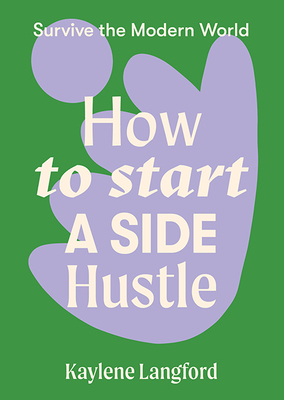 List Price: $14.99
Our Price: $8.00
(Save: $6.99 47%)
Description
---
How to Start a Side Hustle is the perfect pocket guide to the new way of doing business for a new generation.

Young people are increasingly confident, ambitious, and achievement-oriented, making them prime candidates for thriving careers in entrepreneurship and business. They're tech savvy, have high expectations of their employers, tend to seek new challenges at work and aren't afraid to question authority. No longer are they accepting the status quo: a rigid workplace that doesn't suit their ideal work and lifestyle needs. Instead, they are a nomadic generation seeking to leverage the abundance of wi-fi, mobile apps and online tools to help them create their own professional futures from anywhere in the world.

Sound like you? How to Start a Side Hustle will inspire you to take your career into to your own hands, help you to design a viable business model and drive you to bring your ideas to the market. Packed with practical tips, hacks and advice from both professional business people and unconventional company founders, this book will take you through the process of starting your own business in a straightforward and accessible way.

How to Start a Side Hustle is the perfect pocket guide to the new way of doing business for the generation that thrives on individuality, freedom and making real change amongst their peers.

The Survive the Modern World series tackles big subjects in a fun and digestible way. The tone is frank and chatty, but the content is comprehensive. Upskill and expand your knowledge with these accessible pocket guides.
About the Author
---
Kaylene Langford is an entrepreneur, passionate coach, and owner of Start Up Creative. Kaylene is committed to drawing together young, motivated individuals and throwing them in the mix with industry experts, funding opportunities, development programs, mentors, inspiring events and keynote presentations. With over eight years' experience developing and delivering youth programs, driving initiatives to support youth development, mentoring, and building a thriving community for entrepreneurs to find their groove, Kaylene offers empowerment, encouragement and support to those with the same hunger to do something new, different, and significant.