Bliss Bites: Vegan, Gluten- & Dairy-Free Treats from the Kenko Kitchen (Paperback)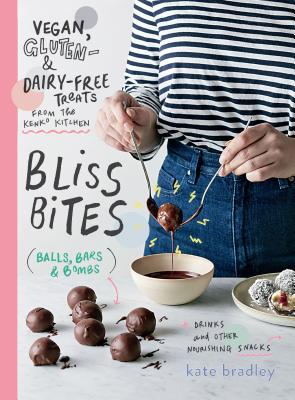 $14.99
Email or call for price.
Description
---
Bliss Bites is a celebration of the taste and flavor sensations that are possible with dairy and refined sugar-free snacks. Kate Bradley, author of bestselling book and successful blog Kenko Kitchen returns with a collection of over 50 gluten-free, vegan and plant-based recipes - some savory, most sweet, all inventive and delicious.

Chapters include: everyday staples (such as 5 Ingredient Peanut Butter Bliss Balls or Superfood Super-good Bliss balls), savory bites (such as Healthymite and Mega Seed Crackers), sweet tooth (such as Date Night Truffles and Raspberry Ripe Truffles), treats (such as Almost a Snickers Bar and Raw Lemon Slice), and basic accompaniments (such as Coconut Bacon and Salted Caramel Spread).

All shot and styled in Kate's signature fresh and refined style, Bliss Bites ensures snack time is simple, healthy and always delicious!
About the Author
---
Kate Bradley's passion for delicious plant-based cooking is defined by the Japanese word Kenko, meaning health. A lover of sharing good food for as long as she can remember, Kate gave up gluten, dairy and all processed foods in 2012. This revolutionized her health and wellbeing and she started the Kenko Kitchen food blog to share her journey of discovery. When she is not cooking, eating and blogging, she divides her time between recipe developing, cooking demonstrations, and her coffee business, Rushmore Coffee Co.