Suspected Hippie in Transit: : Sex, Drugs, Rock 'n' Roll, and the Search for Higher Consciousness on the International Trail, 1971-1977 (Paperback)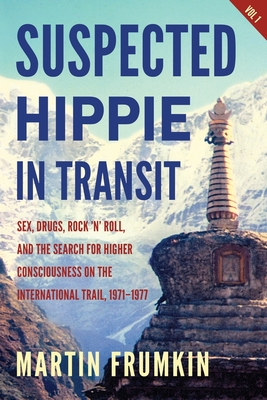 Description
---
What was it like to backpack along the international hippie trail fifty years ago? Martin Frumkin's pre-tech, countercultural rucksack romp throughout Asia captures the tumultuous, don't-give-a-damn attitude of such rebellious, nomadic vagabonds as Marco Polo, Ibn Battalu, and Neal Cassady. Martin "tuned in" and "turned on," but chose not to "drop out."
Join him as he treks in NEPAL within the glacial Himalaya, hangs with royal freak princes in INDIA, partakes of guiltless debauchery in tropical Goa, and enjoys opium-induced romance with willing maharinis. He compares the silky white sand of SRI LANKAN beaches to the gritty deserts and Hindu Kush of AFGHANISTAN and searches for enlightenment within Indian mysticism-all while integrating East and West, God consciousness, the Force, and dark choco-late-covered mescaline.
Not knowing the laws, values, and mores of foreign cultures, nor bound to those at home, Martin experienced an inexplicable, free-floating freedom. Written in journal form, Suspected Hippie in Transittakes you on that unique journey of a lifetime.
About the Author
---
Martin Frumkin, born a boomer in Lower Manhattan in 1948, escaped middle class morality and malaise in his travels throughout North America, Europe, Asia, and South America. His journals became his compass -- a guru of sorts -- often in conflict with his own attempts to integrate East and West while wrestling with God. Five years of open-ended, spontaneous backpack travel morphed into a career in the trenches of psychiatric social work. By serving society's have-nots and homeless, Martin found the balance, Buddhism's wa, he sought; compromise between American corporate tyranny and Timothy Leary's psychedelic mantra, "tune-in, turn-on and drop-out." He just didn't "drop-out." First called "don Marteen" by fishermen in the Canary Islands, and later by friends and enemies, he has lived in Colorado with his wife since 1977.