The Village Idiot (Paperback)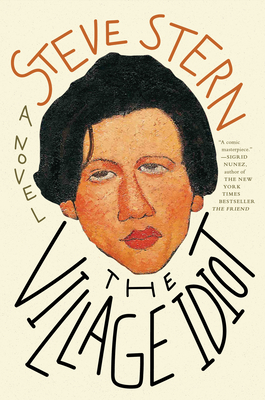 Description
---
A Publishers Weekly Best Book of 2022

"A frothy picaresque that ... vibrates to the "sweet celestial confusion" of Soutine's painting: delirious and earthy, reverent and irreligious." -- The New York Times Book Review

A wild, effervescent, absinthe-soaked novel that tells of the life of the extraordinary artist Chaim Soutine

Steve Stern's astonishing new novel The Village Idiot begins on a glorious spring day in Paris 1917. Amid the carnage of World War I, some of the foremost artists of the age have chosen to stage a boat race.  At the head of the regatta is Amedeo Modigliani, seated regally in a bathtub pulled by a flock of canvasback ducks.  But unbeknownst to the competition, he has a secret advantage: his young friend, the immigrant painter Chaim Soutine, is hauling the tub from underwater.  Soutine, an unwashed, misfit artist (who incidentally can't swim) has been persuaded by the Italian to don a ponderous diving suit and trudge along the floor of the river Seine.  Disoriented and confused by the artificial air in his helmet Chaim stumbles through the events of his past and future life.
 
It's quite an extraordinary life.  From his impoverished beginnings in an East European shtetl to his equally destitute days in Paris during the Années Folles, the Crazy Years, from the Cinderella patronage of the American collector Albert Barnes, who raises him from poverty to international attention, to his perilous flight from the Nazi occupation of France, Chaim Soutine remains driven by his unrelenting passion to paint. 
 
To be sure, there are notable distractions, such as his unlikely friendship with Modigliani, who drags him from brothels to midnight felonies to a duel at dawn; there are the romances with remarkable women who compete with and sometimes salvage his obsession. But there is also, always on the horizon, the coming storm that threatens to sweep away Chaim and a generation of gifted Jewish refugees from a tradition that would outlaw their longing to make art.
 
Wildly inventive, as funny as it is heart-breaking, The Village Idiot is a luminous fever-dream of a novel, steeped in the heady atmosphere of a Paris that was the cultural capital of the universe, a place where anything seemed possible.
About the Author
---
Steve Stern's fiction, with its deep grounding in Yiddish folklore, has prompted critics such as Cynthia Ozick to hail him as the successor to Isaac Bashevis Singer. He has won two Pushcart Prizes, an O'Henry Award, a Pushcart Writers' Choice Award and a National Jewish Book Award. For thirty years, Stern taught at Skidmore College, the majority of those years as Writer-in-Residence. He has also been a Fulbright lecturer at Bar Elan University in Tel Aviv, the Moss Chair of Creative Writing at the University of Memphis, and Lecturer in Jewish Studies for the Prague Summer Seminars. Stern splits his time between Brooklyn and Ballston Spa, New York.
Praise For…
---
A Publishers Weekly Best Novel of 2022

"Stern has blended biography and fabulism into a frothy picaresque that ... vibrates to the "sweet celestial confusion" of Soutine's painting: delirious and earthy, reverent and irreligious." -- The New York Times Book Review

"A lively work of intellectual escapism in the vein of a Tom Stoppard comedy...the book's frantic pace and vivid prose feel true to the artist." -- The Wall Street Journal

"Mixing history, art criticism, biographical facts, and fiction, Stern aims to put flesh and blood on the bare bones of what little is known about Soutine...Descriptions of the Paris art scene, its cafés and its museums, add a vibrant touch...His evocation of Soutine's misshapen faces, twisty white houses, wind-bent trees, bloody beef carcasses, and dead birds helps to bring the narrative alive." -- National Review

"Stern brings the slovenly, uncouth, and smelly Chaim to life as a modern art visionary, adding humor and heartache to the inspired artist's painful and tragic life, and he shines in his use of Jewish folklore and characters. This luscious blend of fantasy and reality captivates." -- Publishers Weekly, STARRED REVIEW

"Poignant, richly colorful... An outstanding portrait by a writer at the top of his form." -- Kirkus, STARRED REVIEW

"In an act of resounding creative alchemy, audaciously imaginative Stern combines his fascination with Jewish folktales and mysticism with the life and work of painter Chaim Soutine, forging saturated, gleaming, and tumultuous prose that captures the vision and vehemence of Soutine's thickly textured, writhing, nearly hallucinatory paintings....Stern's kinetically inventive and insightful homage is incandescent, riveting, and revelatory in its wrestling with the mysteries of creativity and the scourge of antisemitism." -- Booklist, STARRED REVIEW

"Witty, dark, and poignant, you'll want to strap in for Stern's venture into Soutine's adventures and romances." -- Apartment Therapy

"A playful, frolicking novel, one that leans well into the exuberance of Paris and the art world located at its heart... Even while The Village Idiot aptly wrestles with weighty issues such as the nature of art and the realities of the Holocaust there is, much like life itself, nonetheless much to enjoy and entertain." -- The Chicago Review of Books

"In The Village Idiot, Soutine comes fully to life and is fully alive...There are many difficult truths in Soutine's life, and Stern doesn't shy from any of them. Instead, he offers to readers a biography, completely fiction yet seemingly true, a portrait as complete and inhabited as any Soutine could have painted himself." -- Chapter16.org

"Through this vivid, affecting portrait of a confounding iconoclast, Stern reminds us of the importance of moving forward, adapting to unusual circumstances, and finding true friends." -- The Washington Independent Review of Books

"An inherently fascinating and impressively well crafted novel from first page to last, "The Village Idiot" showcases author Steve Stern's exceptional storytelling skills." -- The Midwest Book Review