The Awesome Human Project: Break Free from Daily Burnout, Struggle Less, and Thrive More in Work and Life (Hardcover)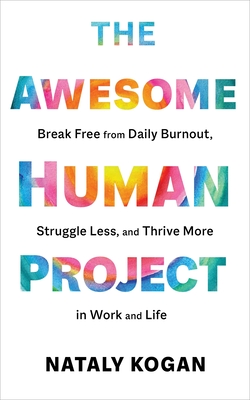 List Price: $24.99
Our Price: $13.00
(Save: $11.99 48%)
Description
---
Stop struggling and start living your best life—with the inspiring, proven program that's transformed over a million people.

We are all experiencing unprecedented levels of stress and burnout. Exhaustion is at an all-time high. Leaders are depleted, employees are burning out at an alarming rate, and parents met their breaking point long ago. We are struggling and in desperate need of a new path forward.

In The Awesome Human Project, Nataly Kogan, emotional fitness and leadership expert and author of Happier Now, shows us the way. She makes the compelling case that while challenge in life is constant, struggle is optional. Here, she shares an accessible, super-practical, and unboring guide for reducing daily struggle and burnout—so you can live, work, and lead with more energy, joy, and meaning, even during difficult times.

Nataly wrote The Awesome Human Project in response to her own journey. A refugee who achieved tremendous success, she had come to see struggle as a way of life. But her burnout taught her a powerful lesson: you can't give what you don't have. She writes, "Strengthening your emotional fitness is an essential investment in your success and leadership, and an act of love to everyone you care about."

Filled with simple, science-backed practices and Nataly's contagious energy, The Awesome Human Project will teach you how to strengthen your emotional fitness skills, create a more supportive relationship with yourself as well as your thoughts and emotions, reduce self-doubt, and cultivate more honest and meaningful connections with others.

The Awesome Human Project is a book that you do—not just a book that you read. It includes:

• Nataly's proven, science-backed, five-week program to boost your emotional fitness
• Bite-sized neuroscience lessons so that you can learn to be the boss of your brain
• What awesome leaders do differently and why it matters
• Ways to get rid of guilt around self-care for good
• An "SOS" section to get you unstuck right now
• Nataly's wildly popular "Notes to Self," with inspiration to support your progress
• Awesome Human Awards!

There is an Awesome Human within every single one of us. The Awesome Human Project is the essential guidebook to help you embrace your Awesome Human and become the best version of yourself—with courage and compassion.
About the Author
---
Nataly Kogan is a successful entrepreneur, sought-after keynote speaker, and the founder and CEO of Happier Inc., a company that has helped more than one million people live happier lives. She and her work have been featured in hundreds of media outlets, including the New York Times, the Wall Street Journal, TEDx, and The Dr. Oz Show. For more, visit natalykogan.com.
Praise For…
---
"…[a] gusto-filled guide…[and] cheery but down-to-earth approach to emotional wellness."
—Publishers Weekly

"The Awesome Human Project abounds with simple, practical tools to build emotional fitness, learn to embrace ourselves (and our awesomeness) wholeheartedly, and to leave the 'shoulds' behind so we can joyously revel in the 'coulds.' Nataly is a one-woman dream team of empathetic friend, wise mentor, and ebullient cheerleader and she teaches us to acknowledge our struggle, while we also joyously celebrate our wins and delight in every step of growth on our journey." —Melissa Bernstein, cofounder and chief creative officer, Melissa & Doug

"The Awesome Human Project offers an inspiring blueprint sharing Nataly's compelling personal journey and tactical ways to redirect your mind toward meaning, purpose, and fulfillment." —Tiffany Shlain, Emmy-nominated filmmaker, founder of the Webby Awards, and bestselling author of 24/6: The Power of Unplugging One Day a Week

"The Awesome Human Project is an inspiring and practical guide on how to feel more fulfilled and unlock even more of the awesomeness inside of us. The five-week challenge is like boot camp for emotional fitness. Just like practice in sports, The Awesome Human Project is hard work but rewarding. And Nataly is there like an awesome coach, dusting us off when we stumble, giving us encouragement and motivation, and supporting us on our next attempt." —Jonathan Becher, president, San Jose Sharks

"We've somehow been convinced that a life of busyness and struggle is the only way to live. Through self-care and self-compassion, The Awesome Human Project shows us another way is possible. Nataly provides practical strategies to fully embrace your authentic self and unleash the awesome human within you, so you can live a more fulfilling and purposeful life." —Jen Fisher, chief well-being officer, Deloitte

"As I read The Awesome Human Project, I was immediately struck by the approachable style of Nataly's writing and the unique insights and practical tips she provides. If you sometimes find yourself exhausted from balancing work and life—kids, social schedules, school, spouses, and bosses—this book is for you! Part self-help, part science, and part workbook, The Awesome Human Project offers the perfect combination of tools to help any busy professional step away from the overwhelm of everyday life and chart their way out of the chaos." —Stacey Hoin, chief human resources officer, Guardian Life Insurance

"The Awesome Human Project is a generous and practical guide to letting go of struggle and being your best self—from someone who truly understands what it means to build a happy life from the ground up." —Ingrid Fetell Lee, author of Joyful and founder of The Aesthetics of Joy

"Is it possible to recommend a book to all humans? Because if so, I would absolutely recommend The Awesome Human Project to any human who interacts with other humans and the world around them. The lessons and practices in The Awesome Human Project will help me on my journey to becoming a better leader, colleague, professional, wife, mother, sister, friend, and person. I suspect the pages will be highlighted and dog-eared for years to come!" —Kerri Palamara McGrath, MD, primary care physician and director of The Center for Physician Well-being at Massachusetts General Hospital

"We are in the middle of a human revolution. There has been a much-needed shift, particularly in the workplace, toward embracing the importance of being fully human and taking care of one's mental health and well-being. Nataly digs deep in her personal story and collection of wide-ranging research to provide a blueprint on how to train your mind and be the best version of yourself. Human connection, kindness, and gratitude are not just nice-to-haves. They are fundamentally important on the path toward greater meaning, purpose, happiness, and a better you." —Eric Mosley, CEO of Workhuman

"Each time I read Nataly's work or hear her speak, I am reminded of the power of mindset. The Awesome Human Project is no exception. Readers will find themselves both championed and challenged by the author, who calls us to examine and retrain our thinking. Grounded in real experiences and key neuroscientific insights, it is a pragmatic and thought-provoking guide to achieve what most find illusive—greater joy." —Noelle Eder, global chief information officer, Cigna

"'You can't give what you don't have' has become my new mantra thanks to Nataly Kogan. It has never been more important for us, as leaders, to model self-care. But few of us—me included—have much practice in actually doing it. That's where this book comes in, distilling Nataly's engaging and effective teaching so that we can build happier, more sustainable lives. If you've gritted your teeth through the past year and wondered how long your stamina can hold out, please read this book!" —Peggy Northrop, CEO, Watermark

"This is the book our world needs right now. Like a supportive friend, but one who knows when you need some tough love, Nataly guides you on a meaningful journey to embrace your full awesome self so you can work and live with more joy and purpose. The Awesome Human Project is one you'll want to roll up your sleeves and DO, not just read." —Fran Hauser, startup investor, keynote speaker, and bestselling author of The Myth of the Nice Girl

"What could be better than being an awesome human? Obviously, nothing! What's a close second? The book you're holding. Nataly Kogan gives overworked, disaffected readers hope— and a roadmap for turning optimism into action." —Alex Soojung-Kim Pang, PhD, author of Rest and Shorter

"This book will help you make better choices about where to invest your energy and stop 'shoulding' yourself—at work and outside of work. I look forward to helping others and myself complete our very own Awesome Human Project—and awards!" —Alicia Davis, director of Global Finance Learning and Development, Dell