Katalin Street (Paperback)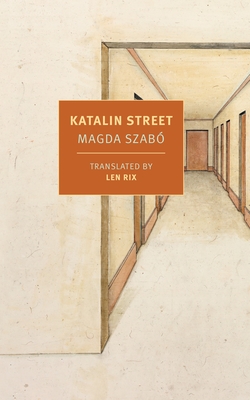 List Price: $15.95
Our Price: $8.00
(Save: $7.95 50%)
Description
---
WINNER OF THE 2018 PEN TRANSLATION PRIZE

From the author of The Door, selected as one of the New York Times "10 Best Books of 2015," this is a heartwrenching tale about a group of friends and lovers torn apart by the German occupation of Budapest during World War II.

In prewar Budapest three families live side by side on gracious Katalin Street, their lives closely intertwined. A game is played by the four children in which Bálint, the promising son of the Major, invariably chooses Irén Elekes, the headmaster's dutiful elder daughter, over her younger sister, the scatterbrained Blanka, and little Henriette Held, the daughter of the Jewish dentist.

Their lives are torn apart in 1944 by the German occupation, which only the Elekes family survives intact. The postwar regime relocates them to a cramped Soviet-style apartment and they struggle to come to terms with social and political change, personal loss, and unstated feelings of guilt over the deportation of the Held parents and the death of little Henriette, who had been left in their protection. But the girl survives in a miasmal afterlife, and reappears at key moments as a mute witness to the inescapable power of past events.

As in The Door and Iza's Ballad, Magda Szabó conducts a clear-eyed investigation into the ways in which we inflict suffering on those we love. Katalin Street, which won the 2007 Prix Cévennes for Best European novel, is a poignant, somber, at times harrowing book, but beautifully conceived and truly unforgettable.
About the Author
---
Magda Szabó (1917–2007) was born into an old Protestant family in Debrecen, Hungary's "Calvinist Rome," on the eastern side of the great Hungarian plain. Szabó., whose father taught her to converse with him in Latin, German, English, and French, attended the University of Debrecen, studying Latin and Hungarian, and went on to work as a teacher throughout the German and Soviet occupations of Hungary in 1944 and 1945. In 1947, she published two volumes of poetry, Bárány (The Lamb) and Vissza az emberig (Return to Man), for which she received the Baumgarten Prize in 1949. Under Communist rule, the prize was repealed and her work was banned, and Szabó. turned to writing fiction. Her first novel, Freskó (Fresco), came out in 1958, followed closely by Az őz (The Fawn). In 1959 she won the József Attila Prize, after which she went on to write many more novels, among them Katalin utca (Katalin Street, 1969), Ókút (The Ancient Well, 1970), Régimódi történet (An Old-Fashioned Tale, 1971), and Az ajtó (The Door, 1987). Szabó also wrote verse for children, plays, short stories, and nonfiction, including a tribute to her husband, Tibor Szobotka, a writer and translator who died in 1982. A member of the European Academy of Sciences and a warden of the Calvinist Theological Seminary in Debrecen, Szabó. died in the city in which she was born, a book in her hand.

Len Rix is a poet, critic, and former literature professor who has translated six books by Antal Szerb, including the novel Journey by Moonlight (available as an NYRB Classic) and, most recently, The Martian's Guide to Budapest. In 2006 he was awarded the Oxford-Weidenfeld Translation Prize for his translation of Magda Szabó's The Door (also available as an NYRB Classic), which was one of The New York Times Book Review's ten best books of 2015.
Praise For…
---
"In Katalin Street, the past is never dormant, never settled. The past is an open wound, a life force busily shaping an increasingly bewildering present. In describing Henriette's plight, Szabó writes: 'From the moment she arrived she had been left to work out the rules and the customs of the place entirely by herself.' In this extraordinary novel, the same could be said for the living." —Laura van den Berg, The New York Times Book Review

"The story of four neighboring families in Budapest whose lives are upended by World War II, Szabo's bewitching novel is the most convincing ghost story I've ever read. You feel this towering Hungarian novelist might have actually figured out the mystery of the afterlife."—Nell Freudenberger, The Week

"Szabó sketches an unforgettable portrait of the Elekes family. . . . This is the rare book that you'll finish and want to go right back to the beginning to reread the first two chapters, if only to better understand Irén's fate." —Priyanka Kumar, Santa Fe New Mexican

"[Szabó's] prose is a powerful reminder of just how resonant the relationship between language and memory can be, especially when entangled within the matrices of families and communities living under the shadow of fascism . . . [Katalin Street] is a brightly shining star in the Szabó universe, offering us a glimpse of Eastern Europe at a time when we need to be reminded of what happened there more than ever." —World Literature Today

"Magda Szabó's moving novel Katalin Street explores the way the past is alive in the present, still shaping life in mysterious ways that are hard to understand. . . . Eliciting a bittersweet beauty, Katalin Street is a powerful novel about life, death and humanity's elusive sense of place and purpose." —Scott Neuffer, Shelf Awareness

"A gorgeous elegy for the joy and the life once shared among three neighboring families—the Elekes, the Temes, and the Helds—in prewar Budapest . . . Readers will be impressed by the brilliant texture and forthrightness of Szabó's prose, along with the particular urgency she infuses into the humiliations and irrational longings that comprise her characters' lives, even or especially during the shock of war. . . . This is a brilliant and unforgettable novel." —Publishers Weekly, starred review

"Three families, whose lives are inextricably linked by the street they inhabit, grapple with love and morality amid political upheaval. In English for the first time and impeccably translated by Rix, Szabó's quietly captivating novel excavates the tangled history of Hungary's capital from the portentous moments before the German occupation to its suffocating postwar regime. . . . A visceral, sweeping depiction of life in the shuddering wake of wartime." —Kirkus, starred review