Maker's Notebook (Hardcover)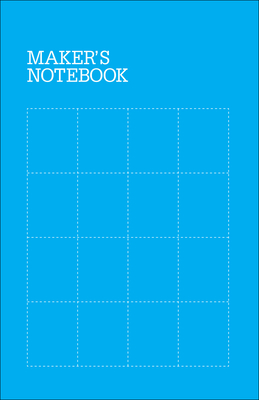 $24.99
On Our Shelves Now. Click on the title to see details.
Description
---
From the creators of Make Magazine comes the Maker's Notebook. Put your own ideas, diagrams, calculations & notes down in these 150 pages of engineering graph paper. We've also included 20 bonus pages of reference material, from useful stuff like electronics symbols, resistor codes, weights and measures, basic conversions and more, to really useful stuff like the amount of caffeine in different caffeinated beverages and how to say Hello, World in various computer languages. The covers of this hardcover book are printed in cyan Maker blue with a white grid embossed front and back. Grab one today
The Maker's Notebook features include:
1/8 engineering graph paper.
Pages are numbered.
Every page has a blank heading to list project name, date, sign or note, and a place to link project/related pages (From Page___, to Page___).
Two-page ruled Table of Contents.
A pocket in the back, with 2 sheets of stickers.
This new edition is updated with new and updated reference material and some new stickers.
About the Author
---
Make: unites, inspires, informs, and entertains a growing community of resourceful people who undertake amazing projects in their backyards, basements, and garages. MAKE celebrates your right to tweak, hack, and bend any technology to your will. The Make: audience continues to be a growing culture and community that believes in bettering ourselves, our environment, our educational system--our entire world. This is much more than an audience, it's a worldwide movement that Make: is leading--we call it the Maker Movement.