Mixed Company: Stories (Paperback)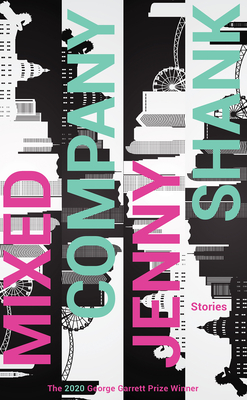 Description
---
In Mixed Company Jenny Shank reveals moments of grace and connection between people of her hometown, Denver, through stories that contrast the city during its oil-bust era of economic troubles and court-ordered crosstown busing for racial desegregation with the burgeoning and gentrifying city of recent years.
In "Casa del Rey," a cautious pregnant woman must contend with her out-of-control and intrusive neighbor. In "Hurts," a girls' basketball team at a majority Black Denver high school clashes with a white mountain team. In "La Sexycana," a bottom-feeding journalist ventures to a dance club to confront the young Latina woman she mentored as a teenager who then cut off all contact with her. "Lightest Lights Against Darkest Darks" follows a white middle schooler bused to a majority Black school who falls under the spell of her magnetic and racially ambiguous art teacher. In "Signing for Linemen," a graduate student in medieval literature takes a job as a summer tutor for a college football team and ends up learning more than she expected about athletes, American Sign Language, and herself. In "Local Honey," middle-aged white parents bring their adopted Black teenage son to a Wu-Tang Clan concert in an attempt to bond with him.
Characters find their initial perceptions and ideas overturned in these stories laced with humor, heart, and grit. Jenny Shank forges fiction out of the sparks that fly when diverse people encounter one another.

Winner of The 2020 George Garrett Fiction Prize, selected by Joe Wilkins
Fiction Winner of the 2022 Colorado Book Awards
About the Author
---
JENNY SHANK's novel The Ringer won the High Plains Book Award. Her writing has appeared in The Atlantic, The Washington Post, The Guardian, the Los Angeles Times and McSweeney's. Her work has been honorably mentioned by Best American Essays, the Pushcart Prize, and her mother. She teaches in the Mile High MFA program at Regis University and the Lighthouse Writers Workshop in Denver.
Praise For…
---
"I don't know the last time I devoured so quickly—so completely—a book of short fiction. The stories in Mixed Company are breezy, vivid, at turns delightful and aching—and quite serious. Truly, across chasms of gender, race, and class, across generations and just across town, these stories aim to do nothing less than remind us of the messiness and grace of reaching out to one another."
—Joe Wilkins, author of Fall Back Down When I Die and The Mountain and the Fathers

"Jenny Shank can write about anything and it is full of love and promise and grace, and she is not sentimental. I don't think one story yet has passed by without bringing tears to my eyes."
—Lucia Berlin, New York Times Bestselling author of A Manual for Cleaning Women: Selected Stories