Leaving Cleveland (Paperback)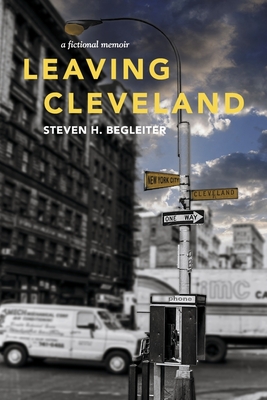 Description
---
Aspiring photographer, Sam Cohen, knows there must be more to life than helping his father run the family business in Cleveland, Ohio. He sets off for New York City and stumbles into an unforgettable adventure in the heart of the celebrity and art world of the 1980's.

He apprentices with "Johnny Strand the Photo Man" in a wacky commercial studio. Sam gets his big break a year later when he becomes the assistant to the world-famous photographer Izzy Teivel.

It is an auspicious start for Sam but reality sets in and dysfunction prevails. Izzy is revered by her fans, clients, and subjects but is unrealistically demanding to everyone, especially Sam, who finds himself questioning his choices and sanity.

The pressure manifests in nightmares of his father's past as a survivor of the death camps during the WWII Holocaust. Sam's guilt in leaving his family behind is triggered by Izzy's portrait assignment photographing the famous Jewish writers Elie Wiesel and I.B. Singer for Vanity Way magazine. Morally conflicted, Sam has to decide whether to return to Cleveland to help his estranged father and overprotective mother or to stay in New York City and pursue his dreams.
About the Author
---
Steven H. Begleiter is a professional photographer and writer. He is currently an adjunct Professor at the Rocky Mountain Collage of Art and Design in Lakewood, Colorado.

His professional photography career began in 1980, as a photo assistant to Annie Leibovitz and Mary Ellen Mark. Opening his studio in New York City, in 1982, he went on to photograph for major publication; exhibit his work in galleries and garner awards for his photography.

His first book of photographs and text entitled "Fathers and Sons", Abbeville Press, was published in 1989 and was a commercial and critical success. Over the next 20 years Begleiter authored 4 instructional books on photography.

In 1997, he was recruited by the University of Pennsylvania to teach in the School of Fine Arts and Design. In 2007 he and his family moved to Missoula, Montana. It was there, in the middle of winter and the dead of night, he conceived the book, "Leaving Cleveland." He worked on it for the next 12 years, completing it in 2022.