Little Peekaboos: Good Night, Sleep Tight: With soft felt flaps to lift (Board book)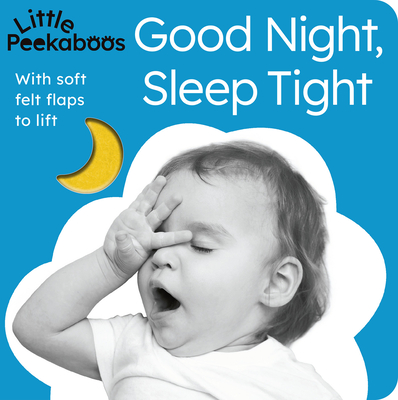 Description
---
This new interactive peekaboo board book features black-and-white photographic images of adorable babies and toddlers, felt flaps in florescent colors, and a die-cut cover!

This interactive peekaboo board book is just right for babies and toddlers! It's time for bed, but the little ones are all playing hide-and-seek. Toddlers can lift the felt flaps to try to find the children hiding throughout the book and copy their actions, which encourages active learning.

Opening and closing the soft felt flaps helps to promote hand-eye coordination, too. The adorable black-and-white photographs, die cuts, and super-bright flap colors will keep children entertained and engaged.

About the Author
---
Sophie Aggett lives in London and likes to spend her time reading detective stories while eating pizza piled with as many toppings as possible. She loves her job writing and editing children's books but thinks she would be good at solving mysteries, too. When Sophie retires, she plans to open a detective agency by the sea.

Compiled by Tiger Tales. Tiger Tales publishes imaginative picture, board, novelty, chapter, and nonfiction books for children of all ages. Whether the story is funny, whimsical, informative, or teaches a gentle lesson, Tiger Tales books are designed to entertain, educate, and engage young readers.