Hollywood to the Himalayas: A Journey of Healing and Transformation (Hardcover)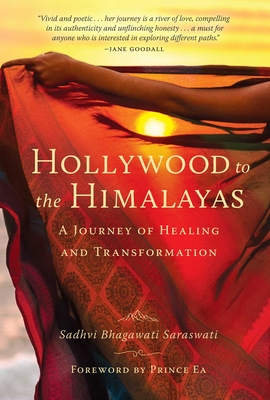 List Price: $29.99
Our Price: $15.00
(Save: $14.99 50%)
On Our Shelves Now. Click on the title to see details.
Description
---
Hollywood to the Himalayas is the enlightening memoir of a reluctant spiritual seeker who finds much more than she bargained for when she travels to India.

As a Stanford grad in the midst of getting her PhD in Psychology, Sadhvi Sarawati was comfortable with her life. Despite years of grappling with an eating disorder and trauma from her early childhood, she felt as if she was successfully navigating her way through early adulthood. When she agreed to travel to India to appease her husband—and because she loved the food—Sadhvi would have never imagined that she would be embarking on a journey of healing and awakening.

Hollywood to the Himalayas describes Sadhvi's odyssey towards divine enlightenment and inspiration through her extraordinary connection with her guru and renewed confidence in the pleasure and joy that life can bring. Now one of the preeminent female spiritual teachers in the world, Sadhvi recounts her journey with wit, honesty, and clarity and, along the way, offers teachings to help us all step onto our own path of awakening and discover the truth of who we really are—embodiments of the Divine.

"Sadhviji models for us, at the deepest level, that in the true teaching of the spiritual traditions, healing and grace are always possible." —Prince Ea, in the foreword to Hollywood to the Himalayas

"Vivid and poetic…her journey is a river of love, compelling in its authenticity and unflinching honesty. …a must for anyone who is interested in exploring different paths to fulfilment and to the Creator." —Jane Goodall

"Sadhvi Bhagawati Saraswati is a great teacher of spirituality and consciousness. Her inspiring wisdom illuminates the path to healing, happiness, and inner peace." —Deepak Chopra

"For so many of us, the road to the Divine sometimes begins with deep trauma. And, then Grace is bestowed upon us and we blossom in the holiness of love. Hollywood to the Himalayas is filled with wisdom and truth about the powerful revelations that unfold on the path to a deeper relationship to the divine. This is a beautiful book." —Rev. Iyanla Vanzant, executive producer, Iyanla, Fix My Life


About the Author
---
American-born Sadhvi Bhagawati Saraswati, PhD, moved to India in 1996. A graduate of Stanford University, she was ordained by Pujya Swami Chidanand Saraswatiji, president of one of the largest interfaith institutions in India, into the tradition of sanyas and lives at the Parmarth Niketan ashram in Rishikesh, where she leads a variety of humanitarian projects, teaches meditation, gives spiritual discourses, and counsels individuals and families. One of the world's preeminent spiritual leaders, Saraswati is the author of four previous books on spirituality, and is also well known as a writer, speaker, and activist. She serves on several committees (within the United Nations and World Bank) for international charity and economic development and is a member of the Transformational Leadership Council as well as the director of the International Yoga Festival. She lives in Rishikesh, India, and travels and lectures regularly in the US, UK, Europe, and Canada.
Praise For…
---
"Sadhvi Bhagawati Saraswati is a great teacher of spirituality and consciousness. Her inspiring wisdom illuminates the path to healing, happiness, and inner peace."
— Deepak Chopra

"Courageous, Relatable, and Inspiring! Sadhvi's story will touch your heart and show you that the path to the divine is available to everyone."
— Prince EA

"Sadhvi's journey is a river of love, compelling in its authenticity and unflinching honesty. She transports the reader to a world and way of thinking that most will be unfamiliar with, and this book is a must for anyone who is interested in exploring different paths to fulfilment and to the Creator."
— Dr. Jane Goodall

"Hollywood to the Himalayas is filled with wisdom and truth about the powerful revelations that unfold on the path to a deeper relationship to the divine. This is a beautiful book."
— Rev. Iyanla Vanzant, Executive Producer of Iyanla, Fix My Life

"Sadhviji shows how Divine love and light, ever present, leads her to an academically informed, humorously inspiring, inevitability of love as lived activism in the service of one and all."

— Dr. Azza Karam, Secretary General, Religions for Peace; Former Senior Advisor, UNFPA

"This true story shines a bright light on the path to becoming more deeply spiritual. Sadhvi courageously shares her life lessons, illustrating the infinite possibilities when we consciously seek connection to the divine."
— Jack Canfield, co-author of Chicken Soup for the Soul Series

"A beautifully written account of awakening that offers ancient wisdom for modern-day issues. I highly recommend this!"


— Marci Shimoff, author of Happy for No Reason, Love for No Reason, and Chicken Soup for the Woman's Soul

"Sadhvi unfolds deeply personal experiences that offer the reader important and valuable insights on how to become resilient, self-empowered. Sadhvi's wonderful writing style evoked a movie-like vision in my mind; it is a compelling story."
— Bruce H. Lipton, PhD, Stem Cell Biologist, Epiogenetic Science Pioneer, and author of bestselling books such as The Biology of Belief, Spontaneous Evolution (with Jim Bhaerman), and The Honeymoon Effect

"Sadhvi's journey is […] a story of the power of forgiveness, compassion, grace and love to set one free. Profound, engaging and ultimately liberating."
— James R. Doty, MD, Professor and author of Into the Magic Shop: A Neurosurgeon's Quest to Discover the Mysteries of the Brain and the Secrets of the Heart

"This inspiring and motivational book is a real pageturner. I believe it's the feminine version of the classic spiritual memoir, Autobiography of a Yogi."
— John Gray, author of Men Are from Mars, Women Are from Venus

"A compelling account and an inside look at a great ashram, offering a Western woman's remarkable odyssey of trust in Indian spiritual culture and her powerful healing journey."
— Jack Kornfield, author of A Path with Heart

"For those on a spiritual path, this book is a rare glimpse into connecting with the divine."
— Arielle Ford, author of The Soulmate Secret

"Sadhvi found her true home on the banks of the Ganges wrapped in the arms of the Divine. This enlightenment story will make your heart melt and your jaw drop."
— Justin Michael Williams, author of Stay Woke

"Hollywood to the Himalayas is filled with soulful, deep insight and dynamic wisdom. Sadhvi's honest, courageous, and powerful story radiate healing energy palpable to the heart and mind, borne of her authenticity and spiritual transformation."
— Michael Bernard Beckwith, Founder and Spiritual Director, Agape International Spiritual Center; author of Life Visioning and Spiritual Liberation

"This powerful book is a raw, honest, and heartfelt expression of Sadhviji's continued commitment to her service to humankind, [showing] us that the spiritual path can be tender, messy, funny, fierce, illuminating, blissful, awkward, wondrous…"
— Seane Corn, author of Revolution of the Soul; Co-Founder of Off the Mat, Into the World

"[From] one of the preeminent female spiritual leaders of our time, this revealing and deeply personal story is an inspiring demonstration of grace in action."
— Marianne Williamson

"What an extraordinary book! Sadviji's writing is personal, funny, wry, loving, earnest, self-reflective and incredibly engaging. And her story! Wow! Thank you, Sadhviji. I won't be the same after reading your book."
— Geneen Roth, author of the #1 New York Times Bestseller: Women, Food, and God

"Join a journey of a borderless and courageous heart. The integrity of [Sadhvi's] account (and ascent) is powerful and may rub off on the reader. If it does you will not be the same."
— Jonathan Granoff, President, Global Security Institute