I Meant It Once (Paperback)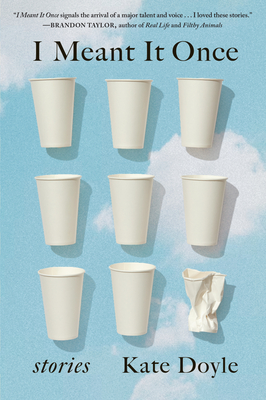 Description
---
This "gorgeous, electric" collection of short stories is about the inner lives of young women during their transformative twenties, navigating relationships, nostalgia for the past, and the uncertainty of the future (Mary-Beth Hughes, author of The Ocean House).

With this sharp and witty debut collection, author Kate Doyle captures precisely that time of life when so many young women are caught in between, pre-occupied by nostalgia for past relationships—with friends, roommates, siblings—while trying to move forward into an uncertain future. In "That Is Shocking," a college student relates a darkly funny story of romantic humiliation, one that skirts the parallel story of a friend she betrayed. In others, young women long for friends who have moved away, or moved on. In "Cinnamon Baseball Coyote" and other linked stories about siblings Helen, Evan, and Grace, their years of inside jokes and brutal tensions simmer over as the three spend a holiday season in an amusing whirl of rivalry and mutual attachment, and a generational gulf widens between them and their parents. Throughout, in stories both lyrical and haunting, young women search for ways to break free from the expectations of others and find a way to be in the world. 

Written with crystalline prose and sly humor, the stories in I Meant It Once build to complete a profoundly recognizable portrait of early adulthood and the ways in which seemingly incidental moments can come to define the stories we tell ourselves. For fans of Elif Batuman, Ottessa Moshfegh, Patricia Lockwood, and Melissa Bank, these stories about being young and adrift in today's world go down easy and pack a big punch.
 
About the Author
---
Kate Doyle's short stories have been published in No Tokens, Electric Literature, Split Lip, Wigleaf, and other publications. Originally from New England, she is a former bookseller and a 2021 A Public Space Writing Fellow. She has lived in New York City, Amsterdam, and Ithaca, NY.
Praise For…
---
Named a Most Anticipated Book of Summer / July by GMA.com, The Millions, PureWow, & Debutiful
"Gorgeously written and staggeringly honest,
I Meant It Once
is a reclamation of female friendship, intellect, rage, desire, and creativity—placing a timeless filter on contemporary questions. It will bewitch you."—
Tess Gunty, National Book Award-winning author of The Rabbit Hutch
"
I Meant it Once
 signals the arrival of a major talent and voice. These stories are by turns funny, melancholy, wry, and piercing in their insight. More than that, I arrived at the end of each of these stories feeling a little less lonely in a world that seemed a little less dark. Kate Doyle brings a rare confidence to stories about the lonely, the prickly, the aimless, and the out-of-sorts, all told in prose that is lively and beautiful. I loved these stories."—
Brandon Taylor, author of Booker Prize Finalist Real Life and Story Prize Winner Filthy Animals
"In this incredible collection, with inventive and beautiful language, Doyle captures the stories of young women who find themselves so close to transformation into a defined version of themselves, one that will lead to a future that will hold them, and she does so with honesty and verve."—
Kevin Wilson, bestselling author of Nothing to See Here and Now is Not the Time to Panic
"Kate Doyle's sentences are something to be savored, and the characters in these stories live and breathe and stand up fully from the page. Perceptive, funny, forthright, and often alarmingly relatable, 
I Meant It Once
 is a tremendously good debut." —
Claire Lombardo, New York Times bestselling author of The Most Fun We Ever Had
"Crystalline, funny, and richly alive, the stories in 
I Meant It Once
 thrilled me with their emotional acuity, their delicately nuanced portrayals of desire and intimacy, and their formal and syntactical dexterity and play."—
Lynn Steger Strong, author of Want and Flight
"With
I Meant It Once
, Kate Doyle proves to be an exciting, fresh, intelligent, unique, poetic and wild new talent. More, the stories feel like dispatches from the front of modernity. This is what it feels like to be here, and young, 
right now. 
This is a timely, inspired, great book."—
Darin Strauss, author of Half a Life
"Kate Doyle's economical and beautiful prose is suffused with a wistful melancholy shot through with wry humor, and we feel her characters' longing as though it is our own. The details are exact, as are the insights; the stories feel utterly real. The result is intimate and propulsive. An exceptional debut."—
Cara Blue Adams, author of You Never Get It Back
"Kate Doyle's gorgeous, electric fiction upends expectations about how stories are told and what exactly needs telling. Lovers and rivals, siblings and friends navigate the funny, strange, sometimes explosive, sometimes transcendently beautiful terrain of love and ambition. These are wise, intimate, essential stories."—
Mary-Beth Hughes, author of The Ocean House
"The crystalline stories of 
I Meant It Once
 capture the complexities of our most intimate relationships—between partners, friends, family, and with one's self. Kate Doyle is a gifted storyteller, with a highly attuned sense for both language and vulnerability. This collection brims with the aches and longings, those wrenching pangs of emotional resonance, that one searches for in great fiction."—
Alexandra Chang, author of Days of Distraction
"A delicate balance of sharp and sweet,
I Meant It Once
explores longing, belonging and the big emotions that can make us feel small with unusual elegance and depth. Kate Doyle is both a gifted observer of human nature and an original and poetic prose stylist."
—
Coco Mellors, author of Cleopatra and Frankenstein
"A brilliant collection of coming-of-age short stories about young women,
I Meant It Once
completely captures the stage of life of the in-between, when everything is possible and everything in the past is relentlessly re-examined."—
GMA.com
"[A] lively debut collection… Doyle's prose reads like Lydia Davis at her most arch and pensive."—
Washington Post
"A collection of sparkling prose that beautifully tangles life's changes, uncertainties, and self-discoveries... delightfully entertaining and often subtly profound…vulnerable, honest, and intimate. Doyle's characters are brightly imagined and, at moments, darkly humorous. She captures womanhood's intense and precarious state of deciding whose expectations to rise to and whose to break away from.
I Meant It Once
is brilliantly conceived, written, and compiled."—
Shelf Awareness
"[With] wry dialogue and distinctive eye for details . . . . [and] masterful prose. . . Fleet, funny, and perceptive, 
I Meant It Once
 entertains even as it contemplates what people actually mean to each other, and what it all means."—
New York Journal of Books
"Doyle's debut story collection plumbs the inner lives of young women faced with the uncertainty, nostalgia, and romantic tribulations that are part and parcel of being alive in your twenties. This one is pitched for readers of Batuman, Moshfegh, and Lockwood—a holy trinity of sharp, searching female characters. Say no more."
 —
The Millions
"[A] collection of such stories, linked in subtle ways, that perfectly encapsulate what it's like to reflect on your youth while you're still in it."—
Chicago Review of Books
"Doyle's brutally honest debut collection explores the joy and disappointment of familial, platonic, and romantic relationships… Doyle exposes family dynamics with humor and sincerity, skillfully exploring the interplay between devotion and betrayal. Readers will savor Doyle's bracing blend of wit and candor."—
Publishers Weekly
"A quiet, but revelatory debut collection. Each story is as sharp with wit and piercing with insight as the next . . . What separates this collection from others like it, is the brutal authenticity that proves Doyle's authorial voice and talent will be one to watch in the years to come."—
Lit Reactor
"The stories that fill Doyle's debut are clever and mesmerizing. She navigates intimate moments with precise plotting, lavish language, and colorful characters. Each story is a stand-out. To quote Sum-41, it's all killer and no filler."—
Debutiful
"With a spare, soft touch, [Doyle] celebrates the intimacies and mourns the losses that shape her characters' lives… Doyle explores those choices and turning points with wit, lovely language and skillful elisions."—
Observer
"[Doyle] weaves a rich cast of characters [… and] presents their stories with such tenderness and empathy that readers can't help but be fully immersed."—
Tupelo Quarterly
"A witty and sharp collection of stories about the inner lives of young women during their transformative twenties..."—
Moms Don't Have Time To Read Books