The Ogress and the Orphans (Hardcover)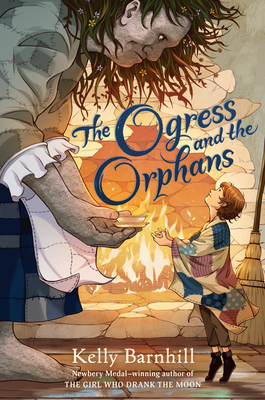 $19.95

On Our Shelves Now. Click on the title to see details.
Staff Reviews
---
Kelly Barnhill has an urgent and important story to tell you. It's about good neighbors, listening to each other, and not being swindled by shiny promises and hollow sentences. Looks can be deceiving and it's important to think about things, and share ideas and stories. All of Kelly's books have a strong element of the importance of stories as a way of holding a truth, and it's only by sharing all of the stories that you can find the truth. Magnificent as always.
— From
Liesl's Recommendations
March/April 2022 Kids Indie Next List
---
"Listen. This is a terrific story by a master storyteller. The Ogress and the Orphans is a fable about solidarity and warns against cultural fragmentation, featuring children who are — like most kids — smarter than the adults around them."
— Timothy Otte, Wild Rumpus, Minneapolis, MN
Description
---
A new instant-classic fantasy about the power of generosity and love, and how a community suffers when they disappear, by Kelly Barnhill, winner of the Newbery Medal for The Girl Who Drank the Moon, a New York Times bestseller.
 
Stone-in-the-Glen, once a lovely town, has fallen on hard times. Fires, floods, and other calamities have caused the people to lose their library, their school, their park, and even their neighborliness. The people put their faith in the Mayor, a dazzling fellow who promises he alone can help. After all, he is a famous dragon slayer. (At least, no one has seen a dragon in his presence.) Only the clever children of the Orphan House and the kindly Ogress at the edge of town can see how dire the town's problems are.

Then one day a child goes missing from the Orphan House. At the Mayor's suggestion, all eyes turn to the Ogress. The Orphans know this can't be: the Ogress, along with a flock of excellent crows, secretly delivers gifts to the people of Stone-in-the-Glen.

But how can the Orphans tell the story of the Ogress's goodness to people who refuse to listen? And how can they make their deluded neighbors see the real villain in their midst?
 

 
About the Author
---
Kelly Barnhill lives in Minnesota with her husband and three children. She is the author of four novels, most recently The Girl Who Drank the Moon, winner of the 2017 John Newbery Medal. She is also the winner of the World Fantasy Award and has been a finalist for the Minnesota Book Award, a Nebula Award, and the PEN/USA literary prize. Visit her online at kellybarnhill.com or on Twitter: @kellybarnhill.
 
Praise For…
---
"An exquisite fantasy tale …  Whether you've been counting the months, weeks and days or are brand-new to Barnhill's sharp, word-perfect prose and classical yet fresh storytelling, you're going to love this standalone fantasy.
—BookPage, "2022 Preview: Most Anticipated Children's Books"

"As exquisite as it is moving."
—Kirkus Reviews (starred review)

"The reader is immediately tossed into this fantasy … The Mayor is a fantastic (though loathsome) villain, oozing charisma and evil in equal measures … . It is fortunate that her tinkering with fairy tales and fables helped open a path to this novel that champions kindness in a very dark world."
—Bulletin of the Center for Children's Books (starred review)

"Barnhill's gift for storytelling immediately draws readers into this character-driven tale where dragons lurk, crows prove great friends, and an unusual narrator relays events with a unique perspective. These fairy-tale trappings cloak modern lessons and timeless ideals that readers will do well to take to heart, no matter their age."
—Booklist (starred review)

"Newbery Medalist Barnhill incorporates ancient stories, crow linguistics, and a history of dragonkind into an ambitious, fantastical sociopolitical allegory that asks keen questions about the nature of time, the import of community care, and what makes a neighbor."
—Publishers Weekly (starred review)

"A delightful tale with dragons, ogres, and orphans that is sure to have readers turning pages to see what happens next. … Characters from the town of Stone in the Glen are well developed and engaging. … Well written and engaging, this title is sure to please readers of all ages as it teaches valuable lessons on acceptance."
—Youth Services Book Review

"Readers of all ages will love it. 5/5 stars."
—YA Books Central

Praise for The Girl Who Drank the Moon:

2017 Newbery Medal Winner
A New York Times Bestseller
A New York Public Library Best Book of 2016
A Chicago Public Library Best Book of 2016

"Impossible to put down . . . The Girl Who Drank the Moon is as exciting and layered as classics like Peter Pan or TheWizard of Oz."
—The New York Times Book Review
 
"A gorgeously written fantasy about a girl who becomes "enmagicked" after the witch who saves her from death feeds her moonlight."
—People
 
"With compelling, beautiful prose, Kelly Barnhill spins the enchanting tale of a kindly witch who accidentally gives a normal baby magic powers, then decides to raise her as her own."
—EW.com, The Best Middle-Grade Books of 2016
 
"Guaranteed to enchant, enthrall, and enmagick . . . Replete with traditional motifs, this nontraditional fairy tale boasts sinister and endearing characters, magical elements, strong storytelling, and unleashed forces."
—Kirkus Reviews, starred review
 
"Rich with multiple plotlines that culminate in a suspenseful climax, characters of inspiring integrity, a world with elements of both whimsy and treachery, and prose that melds into poetry. A sure bet for anyone who enjoys a truly fantastic story."
—Booklist, starred review
 
"An expertly woven and enchanting offering."
—School Library Journal, starred review
 
"Barnhill crafts another captivating fantasy, this time in the vein of Into the Woods . . . Barnhill delivers an escalating plot filled with foreshadowing, well-developed characters, and a fully realized setting, all highlighting her lyrical storytelling."
—Publishers Weekly, starred review