The Oddmire, Book 1: Changeling (Paperback)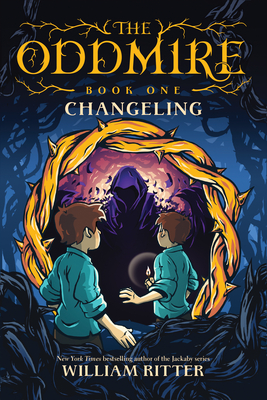 $7.95

On Our Shelves Now. Click on the title to see details.
Description
---
"Funny, exciting, and ultimately epic. Wow. I can't wait for the next one." —Adam Gidwitz, author of the New York Times bestseller A Tale Dark and Grimm

"Set in a magical world filled with incredible creatures from folklore, this fast-paced fantasy will keep readers turning the pages . . . A captivating series opener." —Booklist, starred review

Magic is fading from the Wild Wood. To renew it, goblins must perform an ancient ritual involving the rarest of their kind—a newborn changeling. But when the night arrives to trade a human baby for a goblin one, something goes terribly wrong. After laying the changeling in a human infant's crib, the goblin Kull is briefly distracted. By the time he turns back, the changeling has already perfectly mimicked the human child. Too perfectly: Kull cannot tell them apart, so he leaves both babies behind.

Tinn and Cole are raised as human twins, neither knowing what secrets may be buried deep inside one of them. When they are thirteen years old, a mysterious message arrives, calling the brothers to be heroes and protectors of magic. The boys must leave their sleepy town and risk their lives in the Wild Wood, journeying through the Deep Dark to reach the goblin horde and uncover who they truly are.

In this first book in a new fantasy-adventure series, the New York Times bestselling author of Jackaby takes readers on a journey of monsters, magic, and discovery.
About the Author
---
William Ritter is an Oregon author and educator. He is the proud father of the two bravest boys in the Wild Wood, and husband to the indomitable Queen of the Deep Dark.The Oddmireis Ritter's first series for middle-grade readers. He is also the author of the New York Times bestselling, award-winning Jackaby series for young adult readers. Visit him online at rwillritter.wordpress.com and find him on Twitter: @Willothewords.
Praise For…
---
"Ritter crafts a well-paced adventure filled with whimsy and peril, in which the bonds of family and love prove stronger than any spell or curse. With memorable characters—especially the irrepressible protagonists, who make a delightful team—and an atmospheric setting, this is a strong series opener."
—Publishers Weekly

"Set in a magical world filled with incredible creatures from folklore, this fast-paced fantasy will keep readers turning the pages as they follow the twins through the dark and mysterious woods. Unique characters with complex personalities will give readers insight into the feelings and actions of not only Tinn and Cole and their mother, but the creatures—both good and evil—they encounter on their journey. A captivating series opener."
—Booklist, starred review

"Fans of Michael Buckley's 'Sisters Grimm' novels will delight in this fast-paced, page-turning fantasy . . . A must-buy for any collection and a title that will lead readers to other classic titles used as source ­material."
—School Library Journal

"A delightful series opener."
—Kirkus Reviews

"Ritter invests the novel's questions about biological identity and birthright with equally powerful affirmations of bonds forged by familial love . . . The snappy, humorous dialogue and shifting perspectives keep the pace lively, and readers can look forward to learning more about Fable in the next installment."
—The Bulletin of the Center for Children's Books

"This is the delightful beginning to a new series about goblins who seek to restore magic to the Wild Wood."
—Book Riot
 
"Ritter's brand of magic here is a gift for all readers of the fantastical—young and old alike."
—The Mountain Times
 
"A great adventure that keeps you guessing!"
—Imagination Soup